This distinguished group of health care executives, industry leaders and Appalachian supporters is instrumental in helping the the Beaver College of Health Sciences make needed connections to advance its mission. They also will provide important advice and guidance regarding strategic directions for the college, workforce needs in the state and region and the feasibility of new degree programs, as well as supporting the various programs and activities of the college.
2017 Beaver College of Health Sciences Advisory Council
Denton Arledge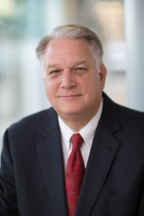 Denton Arledge served as vice president and chief information officer of Information Services for WakeMed Health & Hospitals in Raleigh, NC from 2004 - 2017. Denton is a successful executive with 25 years of experience in management positions in the information technology field, and over 30 years in a variety of information technology, consulting and marketing positions. He serves as the executive officer for Information Services, Data Communication, and Telecommunications. Arledge is charged with the development of an IS Strategic Plan (ISSP) for WakeMed Health & Hospitals, which is currently engaged in a major systems implementation effort to deploy the Epic HER throughout the healthcare system. Before joining WakeMed, Denton held senior IT leadership positions in three other multi-hospital health systems. Prior to his hospital IT roles, Denton spent 13 years with the IBM Corporation. He holds a Masters in Business Administration (MBA) from Georgia State University, Atlanta, GA and a BS in Business Administration, Health Care Management from Appalachian State University, Boone, NC.
Kathy Boyd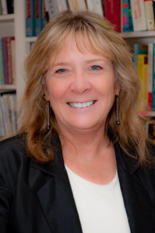 Kathy Boyd ACSW, CMSW is the Executive Director of the North Carolina Chapter of National Association of Social Workers. NASW is the largest professional social work association in the world with over 130,000 members nationally and over 4,600 in NC. Kathy received the Chapter Director of the Year Award from NASW in 2000. Kathy has a master's degree in social work from West Virginia University and a certificate in nonprofit management from Duke University. She is a Certified Master Social Worker (CMSW) and is nationally credentialed by the Academy of Certified Social Work (ACSW). Boyd serves on the Statewide Integrated Care Steering Committee and is chair of the Workforce Development Subcommittee. She also serves on the Statewide Disaster Resource Network, the NC State University MSW Advisory Board, the ECU MSW Advisory Committee, the Statewide Developmental Disabilities Coalition and is the immediate past chair of the Board of Directors for Disability Rights North Carolina.
Gail Curtis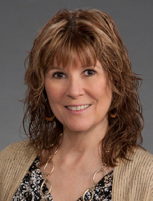 Gail has served as a PA educator for more than 25 years at Wake Forest. She is Chair of the Department of PA Studies. She has served as Executive Vice Chair and director of student services for the past 10 years. Throughout her career, she has authored numerous articles and book chapters, and has given presentations on topics such as addiction illness, otolaryngology, women in medicine, obesity and PA regulations for controlled medication prescribing. She has served on the editorial boards for the Journal of the American Academy of Physician Assistants and the North Carolina Medical Journal. Her awards include NCAPA Outstanding Service Award in 2010, North Carolina PA of the Year in 2013 and the AAPA Outstanding Service Award in 2017. Her community service activities include participating on the boards of directors for the YMCA, Fellowship Home, Halfway House and Alcoholism Counseling Center in Winston-Salem, and volunteering at the student-run DEAC clinic and the SECU family house. Curtis earned her bachelor's degree from the University of North Carolina at Wilmington, magna cum laude with honors, in 1978, and she graduated from the Wake Forest PA Program in 1981. She earned her master's degree in PA studies from the University of Nebraska in 2003.
Steve Fleming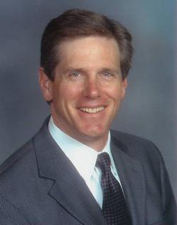 Steve Fleming is the President and CEO of Well•Spring Services, Inc, a non-profit organization providing aging adult services in Greensboro, NC. He currently serves as the Chair of the Board of Directors for PACE of the Triad and as Secretary/Treasurer for the Board of Directors, PACE of the Southern Piedmont, Charlotte, NC. Fleming is the Secretary for the Board of Directors of LeadingAge (formerly the American Association of Homes and Services for the Aging). His past leadership roles have included the Past Chair of Leading Age North Carolina in Raleigh, NC; the Past Chair of the North Carolina State Board of Examiners for Nursing Home Administrators in Raleigh, NC; the Past President of the Greensboro Airport Rotary Club; and the Past Chair: Health Care Management Advisory Board, Appalachian State University. Fleming received his Bachelor of Science in Public Health, Health Policy and Administration in 1986 from UNC-Chapel Hill; and his Master of Business Administration in 1990 from Appalachian State University. He completed a Graduate Fellowship at Harvard Business School in 2006. Fleming also serves as a NCAA Football Official, Conference USA. He is married to his wife of 28 years, Anne, and has two daughters: Brooke, 22, and Elizabeth, 18.
Kathy C. Guyette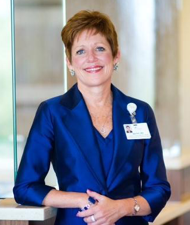 Kathy Guyette, MSN, RN, NEA-BC is the Senior Vice President of Patient Care Services and President of Regional Member Hospitals for Mission Health System. Guyette has more than 18 years of experience in nursing leadership. She has been employed by Mission Health System for 6.5 years. Currently, Ms. Guyette is the Senior Vice President of Patient Care Services; President of the Regional Member Hospitals. Prior to Mission Health, she served as Vice President and Associate Chief Nursing Officer for University of North Carolina (UNC) Hospitals in Chapel Hill for seven years. In this role, she led multiple clinical information technology initiatives, developed advancement and leadership opportunities for nurses, and was instrumental in a number of clinical and business improvements throughout the organization. Prior to joining UNC Hospitals, Guyette served in multiple capacities at VIA Health, Rochester General Hospital and Strong Memorial Hospital, all in Rochester, New York. Guyette holds a Master of Science in Nursing Administration from the University of Rochester and a Bachelor of Science in Nursing from the State University of New York at Brockport.
Tim Klontz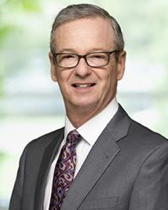 Tim Clontz, MHA, FACHE, is the Senior Vice President, Healthy Communities, Transitional Care and Support Services of Cone Health, a not-for-profit health system based in Greensboro, NC with six hospitals and over 100 locations. In his current role, he is responsible for non-acute institutional services across the continuum of care: skilled nursing facilities, a continuing care retirement community, several small health care business units, medical office properties, construction management and facilities management (hospital and non-hospital). Tim also serves as the Cone Health senior representative on a number of boards and board committees: PACE of the Southern Piedmont (Chairman); PACE of the Triad; StayWell Senior Care; Advanced Home Care, Inc. (Immediate Past Chairman); Guilford Adult Health, Inc. (Chairman); The Well-Spring Group, Cone Health Foundation and Impact Alamance. PACE of the Southern Piedmont, PACE of the Triad and StayWell all are non-profit joint ventures (member organizations) with local organizations interested in better serving the frail elderly in their communities. Tim was the driving force behind the development of these PACE organizations. Tim was the inaugural Board Chairman of the North Carolina PACE Association. He serves on the Board of Directors of the National PACE Association (NPA) and currently serves as the Chairman of the NPA Public Policy Committee. During the past year, the NPA Public Policy Committee has created four subcommittees to enhance the effectiveness of the committee and to further engage committee members in the work of NPA. Tim is a Fellow of the American College of Healthcare Executives. He obtained a baccalaureate degree from UNC-Chapel Hill and has a MHA from Duke University.
Chad Lefteris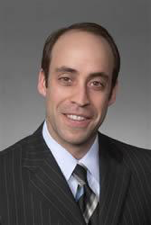 Chad Lefteris is the Vice President of Operations for UNC- Rex Hospital in Raleigh, NC. He is responsible for construction and design, real estate portfolio, facilities, culinary services, environmental services, ambulance transport, security, customer service, operational improvement, and the oncology service line. He joined the organization in 2007. He is involved in the Greater Raleigh Chamber of Commerce, is a board member for the North Carolina Chapter of the Leukemia & Lymphoma Society, serves on the City of Raleigh's Unified Development Ordinance Advisory Group, is a founding board member for the Blue Ridge Corridor Alliance, and is a Fellow in the American College of Healthcare Executives. Chad received his bachelor's degree in business administration/healthcare management from Appalachian State University, and his Masters of Health Administration from Medical University of South Carolina. Chad enjoys mountain biking, snow skiing, hiking, golf, and tennis.
Michael J. Lutes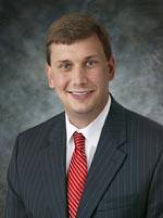 Michael Lutes is currently the President at Carolinas Medical Center- Union and a Senior Vice-President with Carolinas Health Care System responsible for the Southeast Market that includes overseeing three hospitals as well as the Surgical Services Product Line for CHS. CMC-Union is a 247 Bed Hospital with over 1,500 employees. Prior to starting at CMC-Union, he was the President of Greenbrier Valley Medical Center in Lewisburg, West Virginia. Mike has held executive management positions in Health Care Management for over 19 years including serving as Chief Operating Officer at hospitals in South Carolina and Texas. He holds a BSBA in Health Care Management from Appalachian State University and a Master's in Health Administration and Policy from the Medical University of South Carolina. In 2009, he was named one of the Top 10 Health Care Leaders under 40 years old by Modern Healthcare magazine and recently was named one of the 250 Health Care Leaders To Know by Becker's Health News. Mike and his wife Tammy and their ten year old daughter, Lindsey enjoy traveling, salt water fishing, and cheering on the Appalachian State Mountaineers.
Joanna Lyall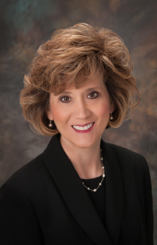 Joanna Lyall, a 1990 graduate of Appalachian State University (B.S.), has been at Wake Forest Baptist Health since 1993 and works in Communications, Marketing and Media. She is the Director of Network and Community Marketing. She oversees the marketing for network hospitals within the Wake Forest Baptist system. In addition, she leads the corporate sponsorship initiatives and community health and wellness programs. Joanna received a B.S. in Health Education with a minor in Communications. She has a Masters of Education in Health Promotion from UNC-Charlotte and also completed her MBA/MHA at Pfeiffer University. She serves on the Leadership Winston-Salem Board, is the former chair and current board member of the Jerry Long Family YMCA in Clemmons and is the past chair and current board member of the Clemmons Community Foundation. She is a former member of the Zoning Board for the Village of Clemmons and was co-founder of the Women Who Care foundation group in 2014. She was named as one of the 2015 Women in Business award recipients by the Triad Business Journal, was named the YMCA Volunteer of the year in 2016 and received the Community Service Award from the Clemmons Rotary Club in 2015. Outside of community volunteering, Joanna enjoys spending time in Blowing Rock with her husband, Troy Shaffoe, and daughter, Katie Lyall, a sophomore at Appalachian State University.
Chuck Mantooth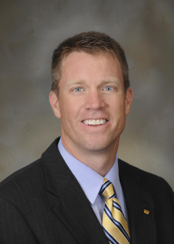 Chuck is currently the President and Chief Executive Officer for Appalachian Regional Healthcare. He served in key leadership positions with ARHS for more than 25 years, including Risk Manager & Financial Analyst, Corporate Compliance Officer, Vice President of Outpatient Services and Programs, Sr. Vice President for Corporate Services, and President & CEO of Charles A. Cannon, Jr. Memorial Hospital. He currently holds the roles of President of Watauga Medical Center, President & CEO of Appalachian Regional Medical Associates, Inc., and CEO of Charles A. Cannon, Jr. Memorial Hospital. Chuck is a 1990 graduate of Appalachian State University with a Bachelor of Science in Business Administration (Healthcare Management) and is a 2006 graduate of The University of North Carolina at Chapel Hill with a Master of Public Health. He is also a Fellow of The American College of Healthcare Executives and has served on numerous boards including the North Carolina Hospital Association (NCHA) Board of Trustees, the NCHA Policy Development Committee, Appalachian State University Honors College Partnership Board, and The American College of Healthcare Executives Regent Advisory Committee.
Pat Phillips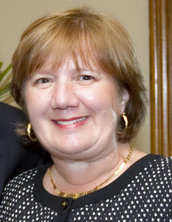 Pat is an adopted member of the Appalachian family. She was born and raised in Indiana, where she attending college at Indiana State University and earned an MS in Mathematics as well as her undergraduate degree. Pat taught High School for a few years but spent most of her career at AT&T as a Systems Designer. She is now happily retired and living in the Mountains and in Florida when it gets cold. She works in the TaxAide program as an instructor for the tax preparations classes and a manager of one of the tax preparation sites. She is on the Ashe Memorial Hospital Gala Committee, the Appalachian State Foundation Board and the College of Health Sciences Advisory Council. Pat has served on the ASU Library Advisory Council for nine years, two of them as Chairperson, during the design and construction of the new library building. Pat is married to Don Phillips, an ASU graduate ('72, '73) who is retired from a career with Ford Motor Company. Together, they have served on two major campaign committees for Appalachian State. You can see their names on several rooms in the Library as well as a number of Athletic facilities…an indication of their interest in the future of ASU.
John Roos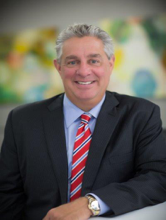 John Roos is the Senior Vice President of Sales, Marketing and Communications for Blue Cross and Blue Shield of North Carolina. In this capacity, he has responsibility for sales and retention; marketing and brand management; digital and social media; internal and external communications; corporate strategy and market research; and business segment financial results for the Group, Under 65/Small Group, Federal and State segments. He joined Blue Cross in September 1998. Prior to his tenure with Blue Cross, he was Senior Vice President of Sales and Marketing for CIGNA Carolinas in Raleigh and Chief Marketing Officer for Healthsource, Inc., a publicly traded company based in New Hampshire. Earlier, he was with Healthsource North Carolina and Carolinas Physicians Health Plan. Roos serves as a board member for the Blue Cross and Blue Shield of North Carolina Foundation and Topaz Shared Services, Inc. He serves on the advisory boards for the Walker College of Business and the Beaver College of Health Sciences at Appalachian State University. Roos earned a Bachelor of Science in Advertising from Appalachian State University.
Sean Sanz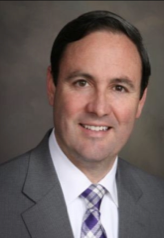 Sean Sanz joined Novant Health in 2007 as a finance leader in the greater Charlotte market. Over the past 10 years, Sean has served in a variety of leadership roles within the finance and operations divisions of Novant Health, including chief operating officer for Novant Health Rowan Medical Center in Salisbury, NC, vice president of operations for the greater Winston-Salem market, and most recently as the chief operating officer for Novant Health Forsyth Medical Center. Today, he is the president and chief operating officer for Novant Health's largest acute care hospital and one of the largest hospitals in the southeast with almost 4,000 team members. Sean served in the US Armed Forces for almost eight years, first with the US Marine Corps and later as a healthcare administrator in the US Air Force Medical Service Corps. He also has a significant finance background and worked with PricewaterhouseCoopers, LLP where he provided consulting and tax services to a variety of healthcare clients in the Carolinas and Tennessee. Sean has a bachelor of business administration from Campbell University and a master of business administration from Appalachian State University. He is also board certified in healthcare management as a Fellow of the American College of Healthcare Executives. Sean's current and prior community involvement includes Forsyth Tech Foundation board chair, Salisbury VA Foundation for Research and Education board member, Appalachian State University College of Health Sciences Advisory board member, Rowan Hospice and Palliative Care board member, United Way of Rowan County board member. Sean is married to Liz Sanz, and they have nine children and reside in Clemmons, NC.
Katie Woodle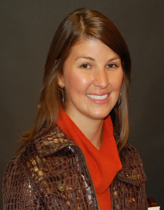 Katie Woodle is the Senior Vice President and Chief Financial Officer at Blue Ridge Electric Membership Corporation. She also serves and Vice Chairman and Chief Financial Officer of Blue Ridge Energies LLC and as Senior Vice President and Chief Financial Officer for RidgeLink LLC. Prior to joining the team at Blue Ridge Electric, Woodle served as Chief Financial Officer for Alleghany Memorial Hospital. She is a North Carolina Certified Public Accountant and received both a Bachelor's and Master's degree in Business Administration and Accounting from Appalachian State University. She is an active member of the Laurel Springs Baptist Church and is proud to be a native of Alleghany County
Former Beaver College of Health Sciences Advisory Council Members
Laura Aiken
Patient Experience Advisor
Press Ganey & Associates
Apex, NC
Denton Arledge
Vice PresidentChief Information Officer
WakeMed Health & Hospitals
Raleigh, NC
Kathy Boyd
Executive Director
North Carolina Chapter of National Association of Social Workers
Raleigh, NC
Reamer Bushardt
Tenured Professor & Chairman
Department of Physician Assistant Studies
Wake Forest University School of Medicine
Winston Salem, NC
Stephen Fleming
President & CEO
Well-Spring Services, Inc
Greensboro, NC
Kathy C. Guyette
Senior Vice President of Patient Care Services
President of Regional Member Hospitals
Mission Health System
Asheville, NC
Chad Lefteris
Vice President of Operations
UNC-Rex Hospital
Raleigh, NC
Sallye A. Liner
Former Novant Health Executive
Forsyth Medical Center
Winston Salem, NC
Robby Lowe
Director of Business Development
Balfour Beatty Construction
Charlotte, NC
Michael J. Lutes
President
Carolinas Medical Center- Union
Senior Vice President
Carolinas Health Care System
Charlotte, NC
Joseph Lydon
President & CEO
Salemtowne
Winston Salem, NC
David Meiburg
Endoscopy Area Manager
Olympus America
Cary, NC Beth W. Murray
Winston Salem, NC
Beth Murray
Winston-Salem, NC
Pat Phillips
Retired Systems Designer
AT&T
Boone, NC
John Roos
Senior Vice President of Sales
Marketing & Communications
Blue Cross & Blue Shield of North Carolina
Durham, NC
Lynne Scott Safrit
President
Atlantic American Properties
North American Commercial Division
of Castle and Cooke
Kannapolis, NC
Richard G. Sparks
President and Chief Executive Officer
Appalachian Regional Healthcare System
Boone, NC
Dan R. Williams
Retired President & Chief Operating Officer
F&M Bank
Salisbury, NC
Katie Woodle
Senior Vice President and Chief Financial Officer
Blue Ridge Electric Membership Corporation
Lenoir, NC