Blue Cross Blue Shield-NC Institute for Health and Human Services
The Blue Cross Blue Shield of North Carolina Institute for Health and Human Services provides multidisciplinary research opportunities, clinical services, community outreach, and training programs related to holistic health and well-being with the overarching goal of improving lives through transformative social, environmental, and healthcare advances.
The IHHS aspires to take education and research beyond the walls of academia by engaging the very people it serves in the process of training future providers, building research relevant to rural health, and creating a sustainable culture of health through regional community partnerships in education and preventive services.
The IHHS Interprofessional Clinic houses the Charles E. and Geneva S. Scott Communication Disorders Clinic, Music Therapy, Faculty & Staff Counseling, and other specialty interdisciplinary programs.
ASU-NCRC Human Performance Lab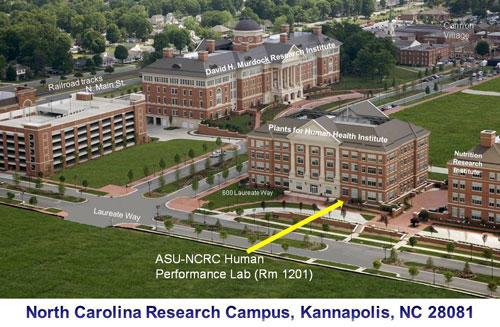 The North Carolina Research Campus in Kannapolis is a 350-acre research center located just north of Charlotte, NC. The mission of the ASU/NCRC Human Performance Laboratory is to investigate the influence of unique plant molecules (e.g, flavonoids such as quercetin, luteolin, and epigallocatechin 3-gallate or EGCG) on age-related loss of muscle mass (sarcopenia), muscle mitochondrial biogenesis, and exercise-induced changes in immune function, oxidative stress, and inflammation. Learn more.