A message from Dean Huff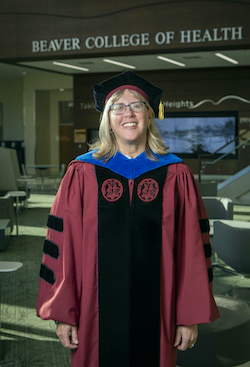 Dear Friends,
Hello and greetings from Boone! Even though we are unable to host our annual Celebration of Giving luncheon this year, I want you to know how much we appreciate everything you are doing for the students and programs in the Beaver College of Health Sciences. None of us could do what we do without the support and encouragement of others around us. We are fortunate to have so many committed alumni, community partners and collaborators, as well as faculty and staff, who are invested in helping our students achieve their dreams of bringing health to new heights.
Today the College has an enrollment of over 3,700 students. These students are earning their degrees in a number of diverse programs designed to enhance the health and wellness of individuals, families and communities, and your support contributes to their successes every single day. In addition, the College boasts high retention and graduation rates, and students are passing their licensure exams at rates that are well above the state and national averages. And most importantly, students graduating from the Beaver College of Health Sciences are finding successful employment in high-demand health fields and/or are matriculating to advanced graduate programs.
Thanks to all of you who are supporting student scholarships. As you know, these scholarships enable us to recruit and retain the best and brightest students and to provide financial support to students who otherwise might not be able to afford an education at Appalachian State University.
I look forward to seeing you in the near future and thanking you in person for your support. Meanwhile, please reach out to me any time with your questions, suggestions or concerns. And let me know if you are going to be on campus. I would love to see you!
Sincerely,
Marie Huff, Dean
Ayah Hatcher's Celebration of Giving speech 2021
Priscilla Holmes' speech for Celebration of Giving 2021
Thank you to our donors
Beaver College of Health Sciences
The Beaver College of Health Sciences Advisory Council Scholarships

The David D. Phoenix Travel Fund

The Dean's Scholarship

The Donald C. Beaver College of Health Sciences Endowed Scholarships

The Founding Dean Dr. Fred Whitt and Donna Whitt Endowed Scholarship

The Girls on the Run Scholarship

The Harkrader Family Scholarship

The Dr. Joseph Wainright Miller, Ed.D. & Joanna Miller Lyall Scholarship

The Maria Winkler-Hyams Scholarship Endowment

The Moody and Natali Chisholm Endowed Scholarship for Health Sciences

The Richard G. Sparks Scholarship

The Robert L. Cobb Memorial Scholarship

The Roscoe L. & Jane J. Billings Memorial Endowed Scholarship

The William Glenn Little International Travel Endowment for Health Sciences
Communication Sciences & Disorders
The Charles E. and Geneva S. Scott Scottish Rite Scholarships

The Clif and Missy Flintom Scholarship

The Delia and Marshall Courtney Scholarship

The Drs. Gary and Kim McCullough Scholarship

The Hillery H. Rink, Jr. Scholarship for Speech-Language Pathology

The LOGOS Scholarship

The Millard Meador Endowed Scholarship

The Speech Center, Inc. Endowed Scholarship

The Vernon Endowed Scholarship
Health & Exercise Science
The Aaron Ross Shapiro Foundation Scholarship for Exercise Science

The Athletic Training Scholarship

The Cleone Hodges Endowed Public Health Scholarship

The Dr. John H. Williams Memorial Scholarship for Public Health

Lowell Furman Scholarship for Athletic Training

The Eric & Katherine DeGroat Memorial Scholarship for Exercise Science

Randy Collins Scholarship for Athletic Training

The Ronald W. (Doc) Kanoy Athletic Training Scholarship

The W.H. & Louise Martin Health Sciences Scholarship
Health Care Management
The ALG Senior, LLC Scholarship in Senior Housing Management

The David D. Phoenix and Brydon S. Greene Endowed Scholarship

The Health Care Management Scholarship

The Kevin Bilson Scholarship for Health Care Management

The Well-Spring Endowed Scholarship
Nutrition
The Annie Dougherty Rufty Scholarship

The Betty Conley Lyerly Endowed Scholarship for Nutrition and Foods

The Heather Williams Meyler - Well-Spring Scholarship in Nutrition

The John and Vivian Welborn Endowed Memorial Scholarship for Nutrition and Foods

The Mary Hoffman Farthing Scholarship

The Virginia Brown, Lillie Perry, and Elizabeth Scoggins Scholarship for Nutrition and Foods
Nursing
The Aaron Ross Shapiro Foundation Scholarship for Nursing

The Carolie Paulus White Endowed Scholarship

The Delia and Marshall Courtney Scholarship

The Do Unto Others Nursing Scholarship

The Hughlene Bostian Frank Endowed Scholarship

The Jennifer K. Adkins, RN Memorial Endowed Scholarship

Leigh Ann Cable Memorial Scholarship

The Dick & Laura Page Endowed Scholarship

The Marcus Edward Archer and Carol Meeks Archer and Family Endowed Memorial Scholarship

The Meme McKensie Brown Memorial Scholarship for Nursing

The Sheltering Home Circle of the King's Daughters and Sons Nursing Scholarship
Recreation Management & Physical Education
The Dr. Wayne E. Williams, Jr. Recreation Management Scholarship

The Edward T. Turner Endowed Scholarship for Physical Education

The Eric & Katherine DeGroat Memorial Recreation Management and Physical Education Scholarship

The James Avant Academic Endowed Scholarship

The Recreation Management Association Endowed Scholarship

The Roger Thomas Memorial Scholarship for Physical Education
Social Work
The Carol J. Gross Memorial Endowed Scholarship

The David Memorial Scholarship

The Delia and Marshall Courtney Scholarship

The Master of Social Work Leadership in Equity & Empowerment (LEE) Scholarship

The Nancy Kester Neale Endowed Scholarship

The Social Justice Scholarship in Social Work

The Stephanie Aneta Randall Memorial Endowed Scholarship
Scholarships for 2021-2022
John & Gail Yearick Nursing Scholarship
Thalia J. Coleman Scholarship for Communication Sciences and Disorders
Phillip Lewis Hardin Endowed Scholarship
BCBSNC Beaver College of Health Sciences Endowed Scholarships
Doug & Dianne Williams Scholarship for Health Care Management
Doug & Dianne Williams Scholarship for Nursing
Ashlyn T. Lowder Scholarship for Exercise Science
The Roos Family Endowed Scholarship for BCHS