Congratulations to the more than 1,700 Mountaineers graduating today — especially the 323 graduating from the Beaver College of Health Sciences. We are so proud of all you've accomplished! Visit appstate.edu/commencement to see the ways you can view and participate in today's commencement ceremony.
BCHS Fall 2020 Commencement Video
Message from the Dean
"On behalf of the faculty and staff from the Beaver College of Health Sciences, congratulations to the class of 2020! We are in awe of all that you have accomplished as you completed your coursework, research projects, and internship and field experiences in the midst of a pandemic. In addition, you have chosen to enter professions where you will be making a real difference in the lives of individuals and families and within your communities. Choose kindness when possible and support each other in the days ahead. You will always be a part of our Mountaineer family, and I know you will continue to make us proud as alumni of Appalachian State University and the Beaver College of Health Sciences!"

— Dean, Marie T. Huff
BCHS Student Speaker

Alexa Dudash is from Annville, PA. She is receiving a Bachelor of Science degree in Exercise Science. While at Appalachian Alexa spent her free time serving with INTAPP (International Appalachian), a department affiliated organization run by students that work to promote study abroad, positive experiences for international students, leadership, and internationalization of Appalachian's campus. Alexa served as a general member for two years, the social club chair for a year and then president of the organization. She is also an active member of the exercise science club.
Alexa's favorite memory as an Appalachian State student was "Culture Crawl" in 2019. According to Alexa, "INTAPP puts on this event every year as a part of International Education Week and it is the last event of the week. We had been planning the event for months and managed to fill every seat plus some standing room in Legends with spectators. The joy that we all felt for planning such a successful event was unmatched by any other INTAPP event and it was such a fun experience. Also, I can't leave out all the time I've spent with my friends, those memories will always be some of my favorites."
The things she will miss most at Appalachian are the people she has met, the beautiful location and the excitement in the town on a football game day. According to Alexa, "I've met my best friends that I know I'll have with me the rest of my life and I will really miss waking up every day to a view over the mountains and being able to drive two minutes down the street to watch such an amazing sunset. I'm also a huge football fan and game days are my favorite part of the fall semester."
Alexa Dudash's graduation remarks
BCHS Mace Bearer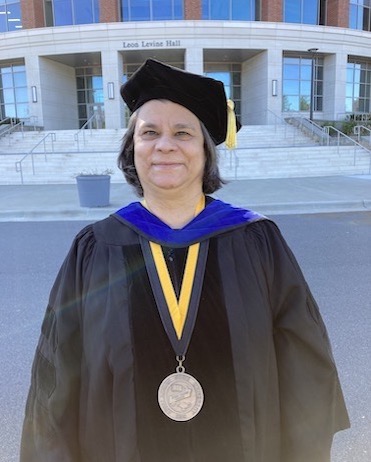 Angela Losardo
Dr. Angela Losardo has been a faculty member in the Department of Communication Sciences and Disorders at Appalachian State since 1994. Her educational background includes an interdisciplinary doctoral degree from the University of Oregon. She worked at the University of Oregon for four years before moving to North Carolina so that her newly adopted daughter would grow up surrounded by her extended family.
While at Appalachian, Dr. Losardo has directed federal research, demonstration, and interdisciplinary personnel preparation projects and has served as Undergraduate Program Director for several years. She has also published numerous journal articles, book chapters, and instructional materials for practitioners as well as co-authored a book on alternative assessment approaches. She will retire on December 31 this year and is grateful for all of the professional opportunities she has had here at Appalachian over the past 26 years. In 2019 she received the inaugural Beaver College of Health Sciences' Inclusive Excellence Champion Award for her leadership on the Theatre and Therapy Project. She is most proud of her work on the Theatre and Therapy Project, which for her, embodies her teaching philosophy and all that she has learned about teaching over the course of her career.
Congratulations Graduates!
Social Media Participation
Hashtags:
#AppStateClassof2020
#AppStateGrad
#AppStateAlumni
Tag us too - bchs@appstate #BCHS #BeaverCollegeofHealthSciences
Recommended accounts to tag in commencement posts:
@AppState
@AppAlumni
And add us too - @BeaverCollegeofHealthSciences