By Audrey Gurkin and Linda Coutant
BOONE, N.C. — To make a proper diagnosis, speech-language pathologist Dr. Jordan Hazelwood may ask her patients to sing.
She also will likely collaborate with a music therapist, nutritionist or other health professional to develop an effective treatment plan that takes into account all aspects of a patient's work, school and family life.
"I hope to share the same clinical framework with my students — to treat the whole patient and understand that each health professional brings a unique set of skills to the table. Therefore, we have to work together as a team to be successful in increasing health and quality of life," said Hazelwood, an assistant professor in Appalachian State University's Department of Communication Sciences and Disorders.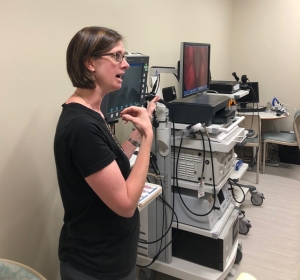 Tags: