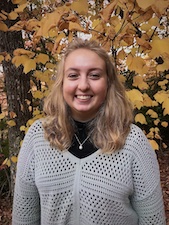 Elizabeth Evanko is from Morganton, North Carolina and she will graduate with a bachelor's degree in Communication Sciences and Disorders. Evanko states the following about her time at App State, "During my freshman year and the first snow, my newly made friends and I went out with barely any winter clothes on, running and throwing snowballs on the Rock. App State is such an amazing place."
Evanko chose App State because "I have always loved the mountains and couldn't see myself anywhere else after touring."
Evanko has this advice to those beginning their journey at App State, "To current freshmen, transfer students and my past self, enjoy and make the most of your time. You are in undergrad for only a few years and you never know what will happen. Take for example, a global pandemic, so make the most of every moment."
Evanko plans to attend graduate school for speech-language pathology with the intention of working primarily with adults in a medical setting.