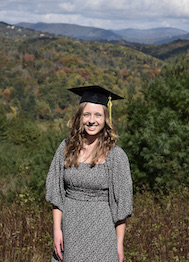 Emily Benson is from Cary, North Carolina and she will graduate with a Bachelor's degree in Public Health and a Nutrition minor. Benson states, "My time at App State has been nothing less than life changing. Through the endless support of my professors, doing undergraduate research on food and housing insecurity, and being able to intern at Hospitality House, I was able to discover and develop my passion for public health. I will always cherish my time here and be forever grateful to those who helped me find my path in life."
Benson chose App State because of the "beautiful mountains and scenery that the university is surrounded by and because of the small knit community that App State is known for having."
Her advice for those just beginning their Appalachian journey is, "I would tell anyone who is just starting their journey at App State to get involved in everything you can and really get to know your professors. College is all about making connections! All of the connections you make will help you to achieve your future career goals. I would also say to make sure to enjoy your time while you are living in the beautiful town of Boone. Take a parkway drive and go on a hike as often as you can!"
Benson plans to attend graduate school next fall to pursue a master's of public health degree with a focus on global health. She hopes to use that degree to, "help create a world where everyone worldwide has an equitable chance for a high quality, healthy life."