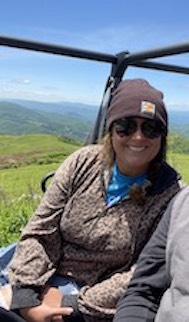 Haley Love is from Mt. Pleasant, North Carolina and she graduated in August with a Master's of Science in Nursing. Love states, "I am fortunate to have had the amazing graduate school experience I had at Appalachian State. It is true, nothing worth having comes easy, but at Appalachian State, you're given all the resources necessary to help you succeed. The Mountaineer Nursing family is just that, a family. Unrelenting support, shared passions, fruitful mentorship, and lifelong connections with the best nursing educators in the industry… what more could I have asked for?"
Love chose to come to App State in 2017, "when I began the RN-BSN program. After graduating in 2018 with my BSN, I knew that I was interested in looking for a graduate program that met all of my needs. I had such a wonderful experience at App State that when I finally made the decision to go to graduate school, I knew that App State would be my first choice. Education has always been important to me and the standards that Appalachian holds for their faculty and students align well with my personal philosophy."
Love shared the following advice, "For the nurses that are starting their BSN or MSN journey, the best advice I have is to take advantage of all the resources around you! You will have amazing faculty, advisors, librarians, clinical staff, and peers that can provide endless support. It is always important to think ahead but be sure to take it one day at a time. It will be over before you know it and one day you will look back and be so proud of all that you accomplished while in this program!"
Love plans to work in academia full time. One of her goals is to relocate to the High Country to serve the Appalachia region.