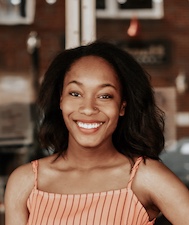 Kiersten Abernathy is from Hickory, North Carolina and she will graduate with a Bachelor's degree in Social Work. Abernathy states, "My time at App State has been remarkable. Not only have I received a great education, but I have also made lifelong connections and enjoyed every minute of my time here."
Abernathy chose App State because many of her family members have gone to App State and the university not only provided her major but also offered many different program options to choose from when considering the path she wanted to take to complete her degree. She plans to continue studying at Appalachian to obtain her MSW and hopefully pursue a job in children and family counseling as a social worker.
Her advice to freshmen or others just starting their journey at App State is, "Dedicate yourself to your education, but also don't forget to have fun, enjoy the journey and build friendships along the way!"