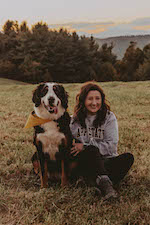 Maddie Osborne is from Jefferson, North Carolina and she will graduate with a Bachelor's degree in Health and Physical Education, K-12 and a Sports Science and Coaching minor. Osborne states the following about her time at App State, "My time at Appalachian State has been filled with unforgettable moments and amazing memories. Appalachian State became my home and my fellow students became my family."
Osborne chose App State because she grew up in Ashe County and "Boone has always been familiar to me and when I toured Appalachian's campus, it felt like home!"
According to Osborne, "One piece of advice that I would give to myself or others just starting their Appalachian journey would be to enjoy every moment, even the hard ones because it all goes by way too quickly."
Osborne plans to start her teaching career after graduation and apply to graduate school to earn her master's degree. Eventually, she plans to obtain a doctorate degree.