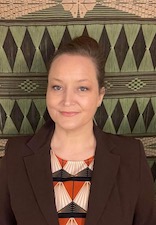 Miranda Pennachi is from Durham, North Carolina and she graduated in August with a Master of Health Administration degree. Pennachi states, "During my time at Appalachian State, I was able to spend a good deal of time getting to know my cohort. We represented many different health care systems, settings, and roles. The faculty at Appalachian State was highly responsive to the fact that students in our courses were on the front lines of responding to the COVID-19 crisis. Faculty and students were able to apply real-world experience from the pandemic to our studies and, in turn, apply theories from coursework to the day-to-day situations we were all managing."
Pennachi chose App State because she was drawn to the beauty of the area. According to Pennachi, "The idea of spending one weekend in Boone with my cohort was very appealing. It was also important that the program be online so I could have flexibility around my job and family life."
Her advice to others starting their own journeys at App State is, "Be open to new people and experiences that App State has to offer. I've made lifelong connections and grown many new skills in my time here. I look forward to returning to this beautiful campus as often as I can!"
Pennachi plans to continue growing in the UNC-Chapel Hill and UNC Health System. "I've seen what the organization has managed during the time of COVID-19 and I am excited that we are doing increasingly important work to support and improve the health of North Carolinians," said Pennachi.