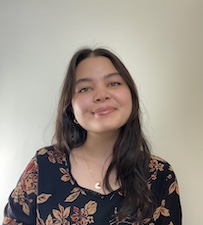 Sophie Osada is from Chapel Hill, North Carolina and she will graduate with a Bachelor's degree in Exercise Science and a minor in Psychology. Osada states the following about her time at App State, "I am so lucky to have been introduced to so many amazing opportunities that have allowed me to become a more confident and eager learner and reinforced what I want to pursue in life, all thanks to my professors and the faculty at App State."
Osada chose App State because "When I first toured App State, I thought the location and campus were so beautiful and the exercise science department seemed so great. I love that there was so much to explore in Boone and that I could spend more time in nature, which has been a great way to relieve stress. I also really enjoyed the sense of community in Boone and found it such a welcoming place."
Her advice to those just beginning their Appalachian journey is, "My advice would be to step outside of your comfort zone and try new things. There are so many resources and opportunities available at App, so try anything that piques your interest, and as you better understand what you are most passionate about, focus on the things that bring you the most joy. Being hesitant to try new things held me back a lot when I first came to App State. I had no idea that I was capable of so many things until I tried them. I first started participating in research with no idea what much of the research process entailed or what my role in all of it would be, but my curiosity in research motivated me to try it out and persist. I have been working with Dr. Ratchford, studying the effects of COVID-19 on the heart, and my experience in research has given me so many opportunities to learn, get a more hands-on education, and gain confidence. I really did not expect to gain as much as I did from the experience, but I have been able to present at conferences, receive awards, and now I am working on writing a manuscript. I have become a more well-rounded student and confident learner thanks to the opportunities that App State has provided me. I have found that the experiences that I grew from the most were the ones I was most afraid to start."
Osada plans to apply to a physical therapy graduate program this summer. Until then, she will continue her work as a physical therapist technician at BreakThrough Physical Therapy in Boone. "I have learned so much about the field from the amazing physical therapists that work at BreakThrough and my experience has reinforced my passion to pursue physical therapy as a career," said Osada.