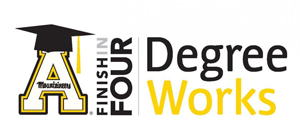 On October 1, 2012, students who entered the university Fall, 2009 and later gained access to DegreeWorks (DW) through AppalNet. DegreeWorks allows both students and advisors to view the student's academic record filtered into the program of study for all majors and minors. Degreeworks provides 24-7 access to:
a full description of specific requirements for the student.
an easy way to see what requirements are not yet met.
As with any student data, faculty should access this information only for legitimate educational reasons, and all information must remain confidential as required by FERPA regulations.
The Beaver College of Health Sciences will use DegreeWorks as the primary record of the approved Program of Study. Majors and minors that require contracts or advisor approval of particular courses should be submitted to the BCHS Office of Advising and Academic Support as soon as possible during a student's academic career in order to ensure the DegreeWorks record is complete.
Students with required minors/second academic concentrations or who intend to pursue a minor as an elective course of study should come to the BCHS Office of Advising and Academic Support to declare their minor so DegreeWorks can reflect those requirements. More information is provided below.
Resources
To submit major and minor contracts or substitutions or waivers, please note that our current practice is NOT changing. Faculty should e-mail all information to chsadvising@appstate.edu, copying your department chairperson. We will update DegreeWorks as appropriate.