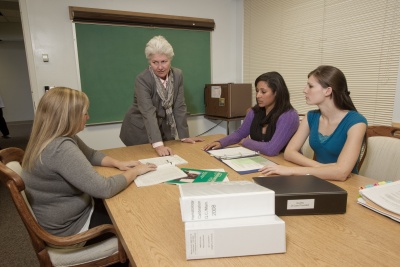 In most areas, faculty mentors partner with professional advisors to create an advising team which serves as a strong resource for students. Faculty mentors serve as a great resource for students in many areas but are particularly good resources when thinking about career options, areas of research, professional engagement and networking and internship opportunities.
Students are encouraged to meet with faculty mentors and academic advisors regularly and consistently throughout their academic career. Faculty mentors are listed in DegreeWorks, just under your academic advisor. Contact info for our academic advisors and other academic support staff can be found here.
BCHS Advising Manual
Mentors: Click here to access the BCHS Advising Manual (Permission is required; Contact the Office of Advising and Academic Support if you have questions)
Advising Syllabus
The advising syllabus gives academic advisors, faculty mentors and Appalachian students a list of what to expect from one another as well as milestones to achieve throughout the advising experience. Click here for the advising syllabus.
Available Upon Request:
DegreeWorks Demonstration Sessions
Open to BCHS faculty and staff, these sessions are designed to demonstrate our new degree audit system, currently in developmental and testing stages. Ample time will be allowed for questions as well as discussion of how processes may change with the implementation of this system. It is critical that those who work in an advisory capacity become familiar with this system.
Scheduled sessions have concluded. Watch this site for future opportunities.
Click here for DegreeWorks FAQs designed specifically for BCHS Faculty Advisors.
Q&A Sessions
Need someone to join your faculty meeting to answer questions that reoccur? Contact our office at 828.262.8590 to schedule.
Mentoring Articles
Benefits of Mentoring Relationships:http://www.facultyfocus.com/articles/teaching-and-learning/faculty-mentoring-undergraduates-nature-development-benefits-mentoring-relationships/
Find a Mentor as on Online Bachelor's Student:http://www.usnews.com/education/online-learning-lessons/2016/04/15/find-a-mentor-as-an-online-bachelors-student
Understanding First Generation College Students:http://www.theatlantic.com/education/archive/2016/05/how-first-generation-faculty-can-help-first-generation-students-succeed/481617/
Why I Mentor:http://news.fullerton.edu/2016wi/Mihaylo-Faculty-Mentoring.aspx
Honest Advising: https://www.nacada.ksu.edu/Resources/Academic-Advising-Today/View-Articles/Honest-Advising.aspx
Frequently Asked Questions
See the list below for printable flyers on topics we are asked about frequently.
The Basics: Dropping Courses
The Basics: FERPA
The Basics: Programs of Study
The Basics: Residency Requirements
The Basics: Visiting Coursework