Dean, Beaver College of Health Sciences
Professor, Department of Social Work
Ph.D., University of South Carolina
MSW, University of Georgia
B.A. Psychology, University of NC, Asheville
Dr. Marie Huff has served as dean of the Beaver College of Health Sciences since June 2017. Prior to coming to App State, Dr. Huff served as dean of the College of Health and Human Services at Bowling Green State University in Bowling Green, Ohio. Before that, she was employed at Western Carolina University for over 16 years as a social work faculty member, department chair, associate dean and interim dean.
Since coming to Appalachian State in 2017, Huff provided oversight of the construction of Levine Hall and moving of the college faculty, staff, classrooms and labs from five different buildings on main campus into one building; helped to significantly increase scholarship and donor support (in collaboration with development officer) for students, building needs and program support; provided oversight and support of new/developing interprofessional clinic(s) and services offered within the Blue Cross of NC Institute for Health and Human Services; Led the college through the development of a new 5-year strategic plan; Provided support for two new academic programs – Master of Science in Athletic Training and a Bachelor of Science in Public Health
Huff holds a doctorate in social work from the University of South Carolina and a Master's of Social Work from the University of Georgia. Before earning her doctorate, she spent 10 years as a clinical social worker where she worked in the mental health field with adolescents and their families.
She has published in the areas of social work education, use of technology in learning and diversity / cultural competence.
Huff resides with her husband Keith and Hondo the dog in Boone.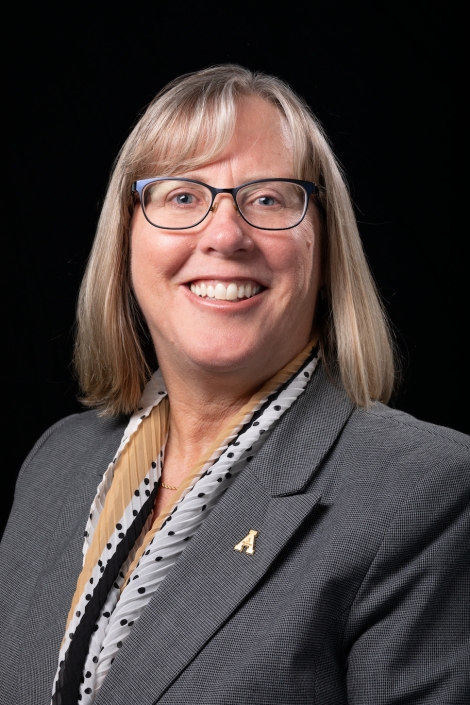 Email address: Email me
Phone: (828) 262-8145
Office address
1179 State Farm Rd.
Mailing address
ASU Box 32170