Scholarships
We thank all of our 2023-2024 scholarship donors. Through the establishment of scholarships and endowments, these generous donors support the efforts of students in the Beaver College of Health Sciences.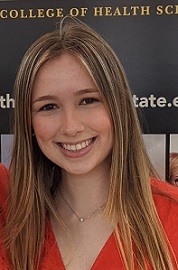 "Receiving this scholarship has meant so much to me and has served as more validation that I am right where I belong in this program. I am very excited for the next stages of my career to begin and will always remember how others believed in me and gave me confidence in my future."
- Jenna Alessandro, Communication Sciences and Disorders student


Scholarship Opportunities for Current and Continuing Students
The Appalachian Scholarship Application Portal is typically open in December and January for enrolled students to apply for scholarships for the following academic year.
For more information about scholarships, please contact the Beaver College of Health Sciences Dean's Office at 828-262-8145.
Scholarship Opportunities for Incoming Students
The Beaver Scholars Program:
The Beaver Scholars program is the premier scholarship program for the Beaver College of Health Sciences at Appalachian State University, and was established in 2019 by Don Beaver '62 '64 and his wife, Vickie Beaver. The $10,000+ renewable scholarship supports incoming undergraduate and graduate students from North Carolina who are committed to careers in direct patient health care. In order to apply, incoming students should complete the university-wide scholarship application when they apply for admission to the University. Meet our Beaver Scholars.
Additional Scholarships for Incoming Graduate Students:
There are a number of additional college and university scholarships available for incoming graduate students. In order to apply, complete the university-wide scholarship application when you apply for admission to our graduate programs. For more information, please visit: https://graduate.appstate.edu/prospective-students/financial-support
Additional Scholarships for Incoming Undergraduate Students:
The Beaver College of Health Sciences offers additional scholarships on a rotating basis to incoming first year undergraduate students, including:
Dr. Gail and John Yearick Nursing Scholarship
Fannie Kirk Little Scholarship
Girls on the Run Scholarship
Jena Folger Health Sciences Scholarship
Jennifer K. Adkins, RN Memorial Endowed Scholarship for Nursing
Mary Hoffman Farthing Scholarship in Nutrition
Moody and Natali Chisholm Endowed Scholarship for Health Sciences
Roscoe L. & Jane J. Billings Memorial Endowed Scholarship
In order to apply, incoming students should complete the university-wide scholarship application when they apply for admission to the University. For more information, please visit: https://scholarships.appstate.edu