Trillium Society of the Beaver College of Health Sciences
The Beaver College of Health Sciences Trillium Society recognizes and celebrates distinguished achievements from college alumni and supporters who exemplify the values of the college: Leadership, Innovation and Caring and embodies the mission of the college of "Taking Health To New Heights." (Header photo credit: Ellen Carpenter)
There are two ways to be inducted into the society:
Receive one of the college's three annual awards

Distinguished Alumnus/Alumna -- Beaver College of Health Sciences or Appalachian State alumnus/alumna who has extraordinary career accomplishments and has continued their support for the college

Emerging Leader -- recent graduate of the Beaver College of Health Sciences or Appalachian State who has a record of achievements in their work or service to the college

Inspiring Service -- community member or alumnus/alumna of the Beaver College of Health Sciences who mentors others, has a record of exceptional service and is "taking health to new heights"


Complete term of service on the Beaver College of Health Sciences Advisory Board
Award Nominations
Award nominations open annually in the spring, and are announced and awarded at a fall reception. Current advisory board members are not eligible for an award.

Nominations for the 2023 Trillium Society closed on June 9, 2023.
Nominations for the 2024 Trillium Society will open in 2024.
2022 Induction
In October 2022, an inaugural group of 12 were inducted into the Trillium Society.
Read more about the first induction.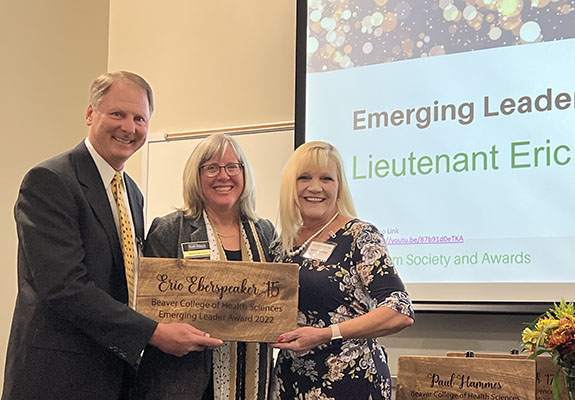 Photo caption: Dean Marie Huff (center) presents the Emerging Leader award to recipient Lt. Eric Eberspeaker's parents at the ceremony.
What Is A Trillium?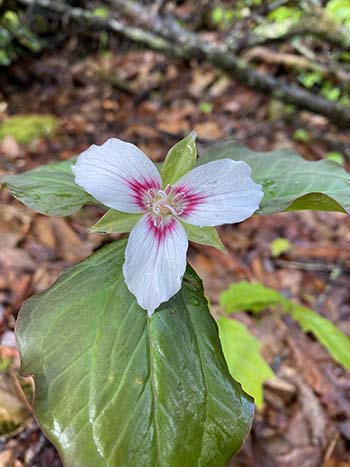 (Photo Credit: Jenny Ward)
The society is named for the Trillium plant species, which has a broad diversity of species growing in the southern Appalachian mountains and was used for its medicinal purposes by Native American tribes.
About the Society
The society was founded in 2022 after a recommendation from the Beaver College of Health Sciences' Advisory Board which recognized the need to highlight individuals making a difference in the health and wellness of their communities, and to the Beaver College of Health Sciences. The Trillium Society fosters continued commitment, service and philanthropy to the college through invitations to special events and engagement opportunities and appeals.