By Amanda Mlekush
The Beaver College of Health Sciences inducted eight health and wellness leaders into the college's Trillium Society on Friday at the second annual society induction held in Leon Levine Hall on the App State Boone campus. Four former BCHS Advisory Board members join five college award recipients as the 2023 inductees honored for their contributions to the university, the college and their professions.
"Welcoming back our former advisory board members and some of our college's outstanding alumni and supporters was a wonderful way to kick off Homecoming weekend at Appalachian State University," said Dean Marie Huff, PhD. "Hearing the stories of what these leaders have accomplished in their careers inspires us as we continue educating the next generation of health and wellness leaders, many of whom are studying these same degree programs."
The Trillium Society was formed in 2022 and named for the trillium plant, an indigenous three-petaled flower known for its medicinal purposes. The society features three tenets–Leadership, Innovation and Caring–that connect faculty, administration, students, alumni and friends of the college.
About the 2023 Trillium Society Inductees
Former Advisory Board members inducted included: Steve Fleming '90 (2013-2023), Dr. Zachary Hollis '02 (2018-2022), Joanna Lyall '90 (2013-2023) and Chuck Mantooth '90 (2013-2023).
The college recognized and announced the recipients of its second annual awards for Emerging Leader, Inspiring Service and Distinguished Alumnus. Nominations for the awards are available online, and a committee made up of board members and college representatives selects the recipients.
2023 Emerging Leader award recipients are:


Mollie Bolick '18, '19
Bolick was recognized for her leadership and advocacy helping individuals who are incarcerated and battling addiction. While a Social Work student, Bolick helped launch "Recovery on the Inside," a program which provides case management and clinical support to people incarcerated in the Watauga County Jail and played an integral role in establishing the Watauga County LEAD program.
Bolick currently serves as the Director of the Homestead Recovery Center, which is part of the Meditative Restorative Justice Center. Photo by Chase Reynolds.
Brian Donado '19

To earn his bachelor's degree from App State in Health Care Management, As a first generation college student, Donado overcame many obstacles and was mentored by fellow Trillium Society inductee Joanna Lyall. He always dreamed of finding a position where he could give back to the community. He now works in Atrium Health's public health division as a bilingual and compassionate advocate for those struggling to navigate or pay for their care, and volunteers as an outstanding leader in his community. Photo by Chase Reynolds.


2023 Inspiring Service award recipients are:


While a student at App State, Green was a track/cross country athlete who earned her bachelor's and master's in Communications Sciences and Disorders (CSD).
After practicing as a speech-language pathologist at Johns Hopkins and Kennedy Krieger Institute, Green took a position at Western Kentucky University as a clinical practitioner and Chief Diversity Officer for the College of Health and Human Services. Green is a recognized advocate for promoting global engagement and recruiting and supporting underrepresented students in the field of CSD. Photo by Chase Reynolds.
In his 30-year career as an Athletic Trainer, Patton has worked with three NFL teams, including the 2010 Super Bowl Champions New Orleans Saints led by quarterback Drew Brees.
He has also received numerous awards for excellence in the profession including the NFL's Outstanding Athletic Trainer Award, but continues to support his undergraduate alma mater by returning to talk with Athletic Training students and supporting a scholarship for AT students. Photo by Chase Reynolds.
2023 Distinguished Alumnus award recipient is:
Steve Fleming '90
As a past chair of the Beaver College of Health Sciences Advisory board and Health Care Management board, Fleming continues to generously give back his time and expertise to App State.
He currently works as the president and chief executive officer of The Well Spring Group, a multi-modal aging services provider serving over 1,000 individuals and their families in North Carolina, and is a recognized leader in his field. Photo by Chase Reynolds.
Award nominations for the 2024 Beaver College of Health Sciences awards will open in January 2024.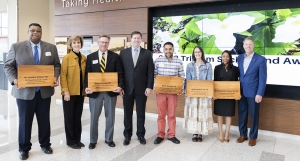 Tags: