By Amanda Mlekush
The Beaver College of Health Sciences is honoring 14 exemplary graduates by asking them to share their favorite Appalachian State University memories and any words of advice they would give to someone beginning their collegiate journey at App State.
Students were selected by their department chairpersons based on their accomplishments and the ways they achieve the Beaver College of Health Sciences' mission of "taking health to new heights."


Blair Anderes
Blair Anderes advises incoming students to "find those things you are passionate about, and see if you can make a career out of it." Anderes, who is graduating with a degree in Athletic Training who played as a forward on the App State Women's Soccer Team, is taking her own advice.
After graduation Anderes plans to become the athletic trainer and intern coordinator for the Charlotte Eagles, a soccer club and ministry in her hometown of Charlotte.
"I have made so many lasting friendships throughout my time here as an undergraduate and graduate student," she said. Anderes, who received her undergraduate degree in Exercise Science, received the Furman Athletic Training Scholarship.

Maurisha J. Carney
Maurisha Carney is graduating with a master's degree in Nutrition with a Public Health Nutrition concentration and is from Edenton, N.C.. She aspires to help develop food and nutrition policies during her career.
Carney chose to attend Appalachian State because its Nutrition program "offered me the perfect program to advance my career goals of working within the Public Health field advocating for nutrition and healthy living. I felt welcomed by the faculty when I reached out for questions and concerns prior to the decision of getting accepted into the program. During the program, I have enjoyed collaborating with students and faculty and gaining insight into what working in Public Health will be like."
What advice would you give to a new student?
"I would suggest that incoming students reach out to their professors when questions arise. My professors were very helpful in providing feedback and improving the quality of my work. Some of them encouraged me to continue beyond this degree and made me feel confident that I am on the correct career path."
Wade Creech
"Most of all, I enjoyed the relationships that I made with other students and faculty during my time at Appalachian, and the amazing support system that I gained," said Wade Creech, who is graduating with university honors and departmental honors with a bachelor's degree in Exercise Science and a minor in Psychology. He's originally from Zebulon, N.C., and was familiar with App State because his mom is an alumna. Creech is attending UNC-Chapel Hill in the fall to pursue his doctorate in Physical Therapy.
What advice would you give to a new student?
"I would advise incoming students to use all of the resources that App State provides for you to be successful, and to really get to know your faculty as they truly want to see you succeed!"


Matthew Fiedler
Matthew Fieldler is graduating with his master's in Exercise Science with a concentration in Research and is originally from Springfield, Illinois. After graduation, he plans to work in a research lab and eventually pursue a doctoral degree.
"The Exercise Science faculty at App State are second to none, and I wanted to learn from the best. I enjoyed long hours in the biomechanics laboratory doing research and developing friendships with other graduate students. I am very thankful I got to work with Dr. van Werkhoven as my advisor. He taught me how important every detail is performing valid research. Finally, I enjoyed teaching the undergraduate's biomechanics laboratory. It helped me develop new skills and communication techniques while helping students gain a better understanding of biomechanics," he said.
What advice would you give to a new student?
"I recommend talking to faculty and getting involved in as much research as you have time for as a student, and start looking for housing early!"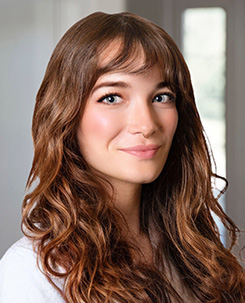 Amelia Gross
"I chose App State because of our dietetics program, the university's focus on sustainability, and location in the beautiful Blue Ridge mountains, and because I could look out the window and seeing the beautiful mountains, which motivated me and reminded me how far I've come," said Amelia Gross, native of Gainesville, Florida, who will be graduating with a bachelor's degree in Nutrition and Foods with a concentration in Dietetics.
After graduation, Gross is moving to Portland, Oregon, to pursue her master's at Oregon State University, taking a step closer to becoming a registered dietitian. While at App State, Gross received the John and Vivian Welborn Memorial Scholarship for Nutrition and Foods and the Tau Sigma Honor Society National Scholarship.
What advice would you give to a new student?
"When I came to App State, I knew I needed to volunteer, participate in research, and complete an internship so I made a plan during my first semester on how to fit all of those in without jeopardizing my grades. If you start volunteering & join clubs as a freshman, you will have time to focus on research and internships your last year."


Don Harley
Don Harley is graduating with a bachelor's degree in Recreation Management with a concentration in Outdoor Experiential Education and is from Wilmington, N.C. After graduation he plans to go backpacking at Yellowstone National Park.
Harley says that he had not spent a lot of time in the mountains before coming to App State, but now the mountains and Boone feel like home. "I have such a deep love for the town of Boone and its people. I think what I have thoroughly enjoyed the most is finding out who I was as a person and testing the waters on what I did and did not enjoy. I now have new passions, a major that is my perfect fit, and I have made some lifelong friends. Boone will always be my home."
What advice would you give to a new student?
"My advice to incoming students would be to test the waters. Go outside of your comfort zone and try something new. Indulge yourself in the community. It has a lot to offer. Get to know people in your major. Don't be afraid to change your degree or to add another minor to your degree, you never know how much you will appreciate it once you are out of college.


Freddy Luviano
"App State, and the mountains, felt like home from the start. After carefully reviewing Appalachian State's social work program I knew it was the one for me," said Freddy Luviano, who is graduating with a master's in social work with a concentration in individuals and families, and is a Beaver scholar. "As a student I enjoyed the many relationships that I developed through the social work program both peers and professors alike. The social work community has always been so supportive and that is something that I appreciated greatly." Freddy says his family is from Mexico, and he grew up in the Piedmont of North Carolina.
After graduating, he plans to pursue his clinical license in social work and will be working with 30th Alliance, an agency in Waynesville that assists the LatinX community.
What advice would you give to a new student?
"Enjoy the time you have here. Time moves pretty fast. Make sure you take a moment to slow down and take it all in, before you know it you will be graduating!"


Maura McClain
Maura McClain is graduating with a Master's in Nutrition and is also completing the Dietetic Internship. She's originally from Lincolnton, N.C. After graduation, she plans to take the Registered Dietitian exam.
"I graduated with an undergraduate degree from App State and stayed for my master's because the faculty in the nutrition department created such a great learning environment, full of support and wisdom. It's so nice being in the mountains," she said. "After class you can just drive 5 minutes down the road and destress by the river or on a beautiful hike. I love my classmates, and the nutrition majors' potlucks are always the best!"
What advice would you give to a new student?
"My advice for new students would be to let yourself try new things and be open to new experiences. Relax, and don't take everything so seriously! Time flies! I would also advise to get out as much as you can and find hobbies that don't revolve around your phone.


Hannah McLaughlin
"When I visited App State for Scholars' Weekend I felt like I was surrounded by a supportive community of faculty, staff, and students. I also learned that undergraduate students have the opportunity to actively participate in clinical programs which seems unique," said Hannah McLaughlin, a native of Gastonia, N.C., who is graduating with a bachelor's degree in Communication Sciences and Disorders with a minor in Psychology.
"Hands-on learning is my favorite way to learn, and at App State, I've worked in a variety of fields and formed interdisciplinary connections. My time in the Theater and Therapy clinical program, as a Resident Assistant with University Housing, and in multiple club organizations like Dementia Awareness and Appalachian Popular Programming Society (APPS) created some of my favorite college memories."
This fall, McLaughlin will pursue a master's degree in Communication Sciences and Disorders at UNC-Greensboro with the goal of becoming a speech-language pathologist.
What advice would you give to a new student?
"Time management is something that you will hear a lot about in college. I found it important to not only think about managing my classes and assignments, but also my mental health and wellbeing. Make sure to make time for your community, for your support systems, and for yourself. This helped to set me up for success as classes got more complex and as I started applying to graduate schools."


Baylee Morton
Baylee Morton is graduating with a bachelor's degree in Health and Physical Education and a double minor inSport Science and Coaching and Public Health. She's originally from Monroe, N.C.
Morton is a student athlete who played catcher on the App State Women's Softball team, and credits that experience with helping shape the person she has become.
What advice would you give to a new student?
"My advice for incoming students would be to enjoy the ride. It comes and goes so fast that if you blink, you might miss it." After graduation, Baylee plans to teach and coach.


Lauren Northrup
Lauren Northrup, a native of Peoria, Illinois, is graduating with a master's degree in Communication Sciences and Disorders. After graduation she plans to help children with speech and language disorders in the Greensboro/Winston Salem area.

"I really valued the smaller class sizes in the program at App State because it allowed me to have a more intimate learning experience and chance to get to know my professors better," said Northrup. " I have fond memories of meeting new friends and learning from and with them. They've helped me grow as a clinician."
What advice would you give to a new student?
"I think the best advice I could give new students would be to give themselves grace as they move through the program. I had to learn that assignments couldn't always be done perfectly, articles couldn't always be thoroughly dissected, and therapy activities couldn't always be the most engaging. There is a difference between doing your best and trying to do things perfectly. You can't pour from an empty cup, so make sure to take care of yourself along the way. It will benefit you and your future clients."


Jackie Perez-Albanil
"When I toured App State,I fell in love with the location and atmosphere! The university offered unique experiences. I took up skiing, learned about Appalachian culture, and delved into out-of-class learning. I was fortunate enough to have received support from ACCESS, a scholarship and support program that funded my degree. At App State, I felt valued and the university tremendously contributed to my personal and professional growth," said Jackie Perez-Albanil who is graduating with a bachelor's in social work, and will pursue her master's degree at UNC-Chapel Hill this fall. Perez-Albanil is from New Hill, N.C. While at App State, Perez-Albanil received the Murray Family ACCESS scholarship.
"Some of my favorite memories are snow skiing, having a National Parkway in my backyard, football nights, a community of professors genuinely passionate about education, caring professors in the social work department. I was able to engage with the community surrounding Boone through developing community projects and involving myself in interdisciplinary services," she said. "This little town holds so much to love."
What advice would you give to a new student?
"I encourage you to exhaust the resources the university has because they are made for you! When I had the courage to ask questions, talk to my professors, and propose ideas, those were the moments I was most grateful for because they led me to discovery, clarity, learning opportunities, and success. I hope you have the courage to do things that you have never done before. I hope you are brave and attempt things that you have dreamed about doing. Try a new hobby, learn about the community you are living in, and explore every resource the University has to offer. Where I cannot promise that it will be easy, I can promise you will be glad you did it!"
Rachel Ramakrishnan
"When I stepped foot on App State's campus, looked out at the mountains and walked by the smiling faces of students and faculty, I knew this was where my heart was," said Rachel Ramakrishnan who will graduate with a bachelor's in Nursing. She is originally from Milwaukee, Wisconsin. "Since coming to Appalachian, I have grown exponentially as a person because of the experiential and transformative learning here. How I see the world, how I see myself, and how I see my future has become well-rounded. I wanted my college experience to be more than earning a degree, and I am so glad App has pushed and supported me inside and outside the classroom."
Ramakrishan is a Wilson Scholar, an Appalachian Ambassador, and vice president of International Appalachian, and played club soccer.
"I have served across the campus in a variety of my passions: service, diversity, and active living and wellness," she said. "My favorite thing about Appalachian is its family culture – whether that be built within prospective students, alumni, faculty and staff, administration, or throughout the community. I have made life-long connections, built networks, experiences, memories, and learned tangible skills inside and outside of a degree that will carry me throughout my next years as a nurse, friend, and family member."
After graduation, she plans to work in the Cardiac Intensive Care Unit at Duke University Hospital in Durham, N.C.
What advice would you give to a new student?
"Be present, and say "yes" to as many opportunities as possible. Appalachian values guide your growth as a person, as well as heightening your academic and professional growth. It is a safe space. Push yourself to step outside your comfort zone and live in the uncomfortable. However, with the same tone, provide yourself grace, create goals both personally and professionally to provide you with direction throughout college, however be flexible and adaptable to what comes to fruition."


Grace Ruffin
"From the second I stepped on campus, I knew App State would be a place I could find community. While the mountains are unbeatable, the small school feel is something I valued from the beginning. When I reflect on my time at App, I think about the incredible professors who never stopped supporting or believing in me," said Grace Ruffin, who is graduating with Honors with a bachelor's degree in Public Health and minor in Gender, Women's and Sexuality Studies.
Ruffin received several scholarships, including for Academic Excellence, the Honors College International Education, the Phillip Lewis Hardin Scholarship for the College of Health Sciences and the NC SECU Foundation Public Fellows Scholarship.
She is originally from Greensboro, NC, and in the fall plans to attend UNC-Chapel Hill's Gillings School of Global Public Health to obtain a Master of Public Health.
What advice would you give to a new student?
"The biggest piece of advice that I can give incoming students is to trust your gut. Whether it is picking a major, ordering off the menu at Stick Boy Kitchen, or befriending the person next to you in class, listen if your gut is talking to you. I have only ever regretted the times that I ignored the voice in my head telling me to be brave and go for it."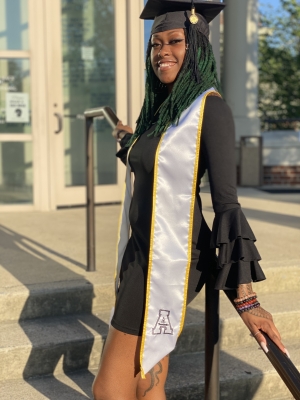 Tags: