BOONE- The College of Health Sciences recently announced the panel discussion topics for the 2015 Alumni Symposium in conjunction with the 2015 Blue Cross and Blue Shield of North Carolina Distinguished Lecture Series on April 24, 2015 in the Holmes Convocation Center. The symposium will follow the lecture with panel discussions beginning at 1:30 pm and open networking at 3:30 pm.
The College of Health Sciences Alumni Symposium gives students an opportunity to come together with professional alumni to learn from one another. The healthcare industry is changing rapidly and current students entering health science professions can benefit from the real-world knowledge of experienced graduates.
The symposium will feature multiple panel discussions from College of Health Sciences alumni in various fields followed by an opportunity for open networking and conversation between students and alumni. The tentative 2015 panel discussion topics are:
Inter-professional Collaboration in the Workplace: current research demonstrates that inter-professional collaboration improves the quality and safety of patient care. It maximizes the skills and experience of team members, allowing them each to work more effectively and deliver a higher level of services than each would working alone. But how do professionals learn to speak each other's workplace language and listen across the divide? This panel will discuss alumni experiences in working as inter professional teams.
Year One-Transitioning from Student to Professional: you've spent 4 years or more working to earn your degree and it's finally time to put that education to work. Our panelists will explore some of the common mistakes recent graduates make in the workplace and help you make the most of your first year on the job.
Innovate Your Career: the healthcare industry is one of the largest sectors of our economy and one of the most rapidly changing. The field of health science is ripe for entrepreneurs looking for ways to improve patient care, quality of service, efficiency and more. This panel will explore ways to take your health sciences knowledge to work in innovative ways.
Graduate Schools and Professional Licenses: many careers in health sciences require advanced degrees and/or specialized training. This panel will discuss some of the options students can consider for educational development and training, as well as what to expect in the working world.
The Unexpected Job: Sometimes your 'dream' job isn't actually your best job, and the pathway to a great career is often winding. Our panelists will explore the ways that unexpected jobs can lead to great careers and how to be ready for excellence in any role.
Preparing to Stand Out: Each year, thousands of students graduate and enter the job market, creating high competition for increasingly limited career opportunities. How can you be sure to stand out from the crowd? Our panel will explore ways that students can position themselves to be noticed and remembered.
The Impact of Technology on Health Sciences: advances in technology are opening huge opportunities to provide better patient care, but staying abreast of the changes can be tough. Our panel will explore some recent changes that technology has brought to their fields and share thoughts on being prepared for future advances.
The Hot Topics Defined: ask 10 professionals about the most pressing topics in healthcare and you'll likely receive 10 different answers. From population health to payment models to the Affordable Care Act, our panelists will share some of their field's hot topics and help to explain their meaning and impact.
The lecture series is free and open to the public, but the symposium is only open to current Appalachian students. For more information about the lecture series or the symposium, please visit lectureseries.healthsciences.appstate.edu.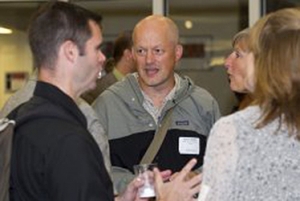 Tags: