The Beaver College of Health Sciences (BCHS) recently hosted its first Celebration of Giving in three years. This event was created to help the college celebrate and thank all of their supporters, as well as to recognize their student scholarship recipients.
"The college and our donors look forward to this gathering every year," said Marie Huff, Dean of the Beaver College of Health Sciences. "We could not be more thrilled to hold this event again after having to cancel our last planned celebration back in 2020, at the beginning of the COVID-19 closures."
Needless to say, people were delighted to return to Appalachian State for the celebration this year, with over 150 guests attending. Huff thanked the many generous supporters in attendance who provide much needed support towards student scholarships, building and technology needs, specific academic programs, faculty research, clinics, community engagement activities and/or student or faculty travel.
Indeed, the college has much to celebrate. For example, the BCHS received $400,000 in scholarship support this year, which is $20,000 more than last year. Also mentioned were the large pledges from donors who have chosen to support the future occupational therapy program. Huff also thanked the BCHS Advisory Board, of whom 100 percent of the members have given back to the college and Appalachian State in significant ways.
Steve Fleming, President and CEO of Well-Spring services in Greensboro and chair of the BCHS advisory board, gave remarks on behalf of our donors. Two of the student scholars served as student speakers and shared their own stories about the impact of their scholarships. Spencer Mourglea (double major in Exercise Science and Health Care Management) and Jenna Alessandro (Communication Sciences and Disorders major) both gave remarks at the end of the luncheon. You can find the students' entire remarks here.
Associate Dean Denise Levy said, "these students, as well as all of the student scholars, are so impressive, and talking with them gives me comfort and confidence that the future of our health and wellness is in good hands." After visiting with the outstanding student scholars and faculty, guests left the celebration feeling inspired and hopeful.
We invite you to view additional photos of the event here.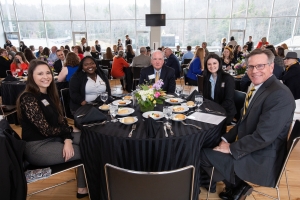 Tags: