By Amanda Mlekush
The Beaver College of Health Sciences thanked a number of its donors and supporters at the 2023 Celebration of Giving held March 3 in Leon Levine Hall.

"When I look around the room, I think about all of the stories that you have shared, and there is a story behind every gift," said Beaver College of Health Sciences Dean Marie Huff. "Whether your passion is giving directly to programs, sponsoring faculty research or student travel, funding our clinics and labs, or serving as representatives and advocates, we want to celebrate and thank you. One common theme I have noticed is that behind every single gift is your passion for making a difference, as we aspire to bring health to new heights."
In addition to a brief program, which also included remarks from Vice Chancellor for Advancement Jane Barghothi, Associate Dean Denise Levy and two student scholars, attendees were invited to tour the college's state-of-the-art Nutrition laboratories where a group of App State student-athletes from Track and Field and Volleyball were attending an AppFuel class to learn about preparing nutritious foods for maximum energy and performance.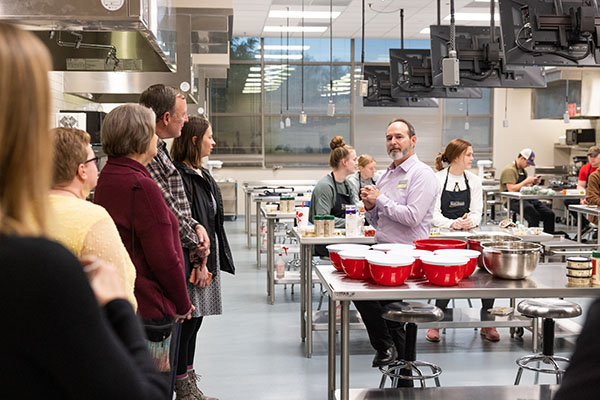 Photo Caption: Faculty member John Arrowood talks to a group touring the Nutrition labs during an App State Athletics' AppFuel class. Photo by Chase Reynolds.

"We have much to celebrate in the Beaver College of Health Sciences, including high retention and graduation rates, and a strong enrollment of nearly 3,400 students," said Barghothi. "Our newest alumni are passing their licensure exams at rates that are at or above the state and national averages. And, most importantly, our graduates are fulfilling their aspirations — finding successful employment in high-demand health and wellness fields … or matriculating to advanced health profession graduate programs. Their success is also your success.
Two Students Share The Impact of Their Scholarships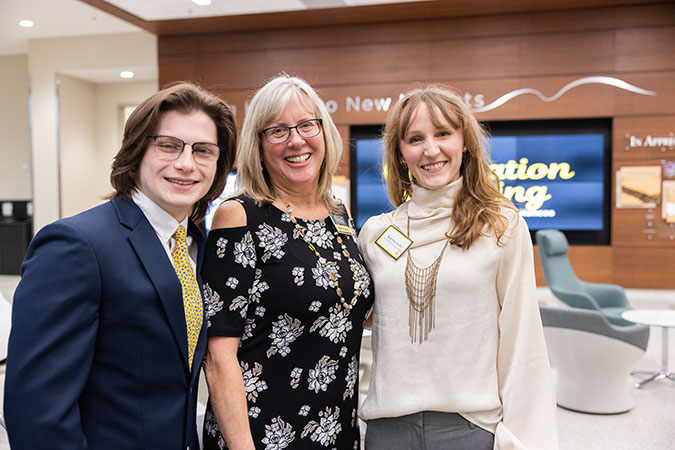 Photo Caption: Dean Marie Huff (center) is joined by student speakers Carson Goins (left) and Madeleine Lefler. Photo by Chase Reynolds.

Scholarship recipients Carson Goins, who is graduating in May with a bachelor's in Nutrition with a concentration in Dietetics, and Madeleine Lefler, a graduate student majoring in Speech-Language Pathology, shared how their scholarships have impacted their studies and potential career paths.
A classically trained vocalist, Lefler said the scholarship allowed her to explore creating a voice-specific clinic offering therapy services for performing vocal artists experiencing vocal and communication issues.
"My performances as an undergraduate at Belmont University were often overshadowed by vocal fatigue and pain," she said, adding, "I grew to learn that there were many reasons for this–muscular tension was primary, but my poor posture, sleep, and nutrition were contributors as well. As I learned more about the field of speech-language pathology, I realized that I could combine my experiences as a performer with a clinical degree that would help me prevent other performers from making the same mistakes that I made."
Goins shared a personal experience that directed his interest in majoring in Nutrition at App State. "My mother was diagnosed with triple-negative breast cancer while I was in high school, and I remember feeling devastated and helpless," he said. "This form of cancer is known for its aggressive nature and difficult treatment. I read articles about how diet can play a critical role in our chances of being diagnosed with cancer, and impact our likelihood of reaching remission. I took this knowledge and began preparing meals for my mother daily that were full of antioxidants and protein.
"Today, I am happy to be able to share that she is alive and well," he said, acknowledging his mother and father, who were on hand to attend the event and see their son speak.
Huff noted that over the past five years, the total number of students receiving college-based scholarships has increased almost 75 percent, and that the amount of each scholarship continues to grow.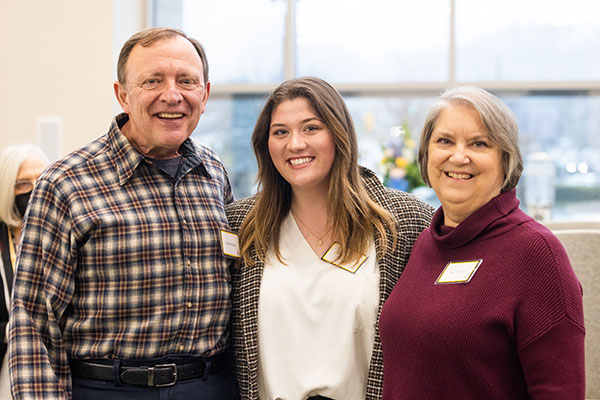 Photo Caption: David and Kris Welborn have a chance to catch up with Allyson Jaynes (center), current recipient of the Welborn Scholarship. Photo by Chase Reynolds.
Acknowledging Additional Contributions To The College
In addition to donors who are funding scholarships, Huff shared unique ways others have recently pledged to support the college and its outreach to impact the health and wellness of the region.

In summer 2023, the college will welcome its first group of youth attending a special camp designed to help those who stutter. Camp Jean Rankin, will have curriculum being created by Beaver College of Health Sciences faculty and will be staffed by faculty and students, received its funding from alumnus Dr. Ed Rankin '79, and his wife Tuy Lee.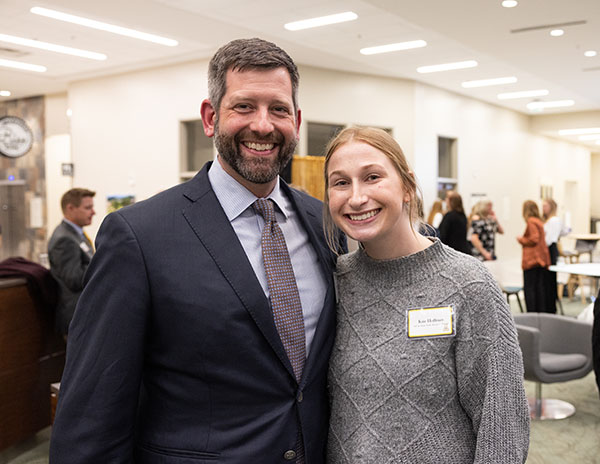 Photo Caption: Donor and alumnus Chris McCaw (left), is pictured with fourth year Nursing student Kate Hoffman. Photo by Chase Reynolds.
Another App State alumnus, Chris McCaw '03, co-founder of Resilient Medical Solutions, a NC-based healthcare supply chain management company, recently donated funds to offset the costs of every App State undergraduate nurse's uniform kit beginning in fall 2023.
Sharing College Updates
The Beaver College of Health Sciences is continuing to grow its programs to help address the workforce needs of the region, said Huff, citing a number of examples including:
Welcoming students in fall 2024 to two new graduate programs: a Master's in Occupational Therapy and Master's of Public Health

Seeking approval from the NC Board of Nursing to increase size of the pre-licensure undergraduate nursing program by as much as 50 percent over the next three years; exploring other programs that could assist with training clinicians

Expanding the Master's and Bachelor's degrees in Social Work to offer online degree programs

Offering an online Bachelor's in Nutrition in Foods with a concentration in Nutrition and Wellness
The Blue Cross of NC Institute for Health and Human Services (IHHS) received more than $500,000 in federal grants and is working with the Area Agency on Aging to expand evidence-based falls prevention programs in the high country and Aging Well services. All of these programs provide hands-on learning opportunities for students.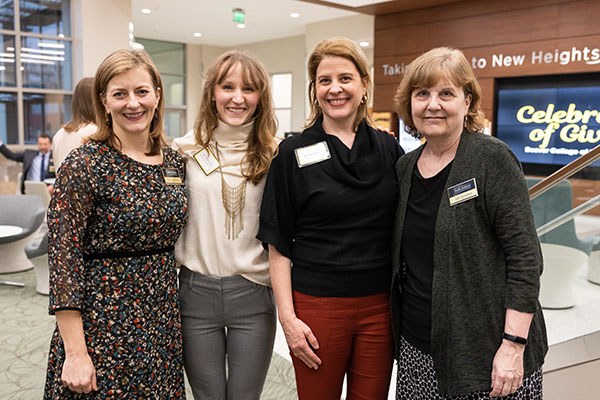 Photo Caption: Communication Sciences and Disorders faculty members (from left) Dr. Gail McCullough, Dr. Jennifer Dalton and Dr. Gail Donaldson are pictured with master's student Madeleine Lefler (second from left). Photo by Chase Reynolds.
About the Beaver College of Health Sciences
Appalachian State University's Beaver College of Health Sciences (BCHS), opened in 2010, is transforming the health and quality of life for the communities it serves through interprofessional collaboration and innovation in teaching, scholarship, service and clinical outreach. BCHS offers nine undergraduate degree programs and seven graduate degree programs, which are organized into six departments: Nursing, Nutrition and Health Care Management, Public Health and Exercise Science, Recreation Management and Physical Education, Rehabilitation Sciences, and Social Work. The college's academic programs are located in the Holmes Convocation Center on App State's main campus and the Leon Levine Hall of Health Sciences, a state-of-the-art, 203,000-square-foot facility that is the cornerstone of the Wellness District. In addition, the college supports the Blue Cross NC Institute for Health and Human Services and has collaborative partnerships with the Wake Forest School of Medicine's Physician Assistant Program, the Appalachian Regional Health System and numerous other health agencies. Learn more at https://healthsciences.appstate.edu .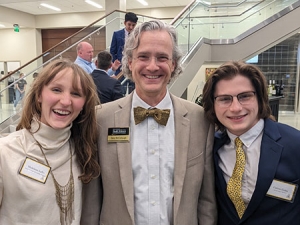 Tags: