Alexa Dudash is from Annville, PA. She is receiving a Bachelor of Science degree in Exercise Science. While at Appalachian Alexa spent her free time serving with INTAPP (International Appalachian), a department affiliated organization run by students that works to promote study abroad, positive experiences for international students, leadership, and internationalization of Appalachian's campus. Alexa served as a general member for two years, the social club chair for a year and then president of the organization. She is also an active member of the exercise science club.
Alexa's favorite memory as an Appalachian State student was "Culture Crawl" in 2019. According to Alexa, "INTAPP puts on this event every year as a part of International Education Week and it is the last event of the week. We had been planning the event for months and managed to fill every seat plus some standing room in Legends with spectators. The joy that we all felt for planning such a successful event was unmatched by any other INTAPP event and it was such a fun experience. Also, I can't leave out all the time I've spent with my friends, those memories will always be some of my favorites."
The things she will miss most at Appalachian are the people she has met, the beautiful location and the excitement in the town on a football game day. According to Alexa, "I've met my best friends that I know I'll have with me the rest of my life and I will really miss waking up every day to a view over the mountains and being able to drive two minutes down the street to watch such an amazing sunset. I'm also a huge football fan and game days are my favorite part of the fall semester."
Alexa's congratulations to fellow graduates.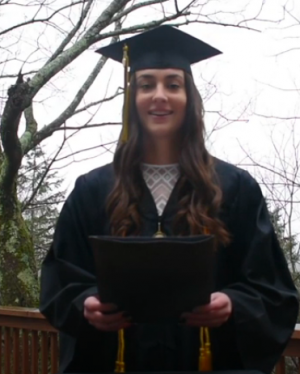 Tags: