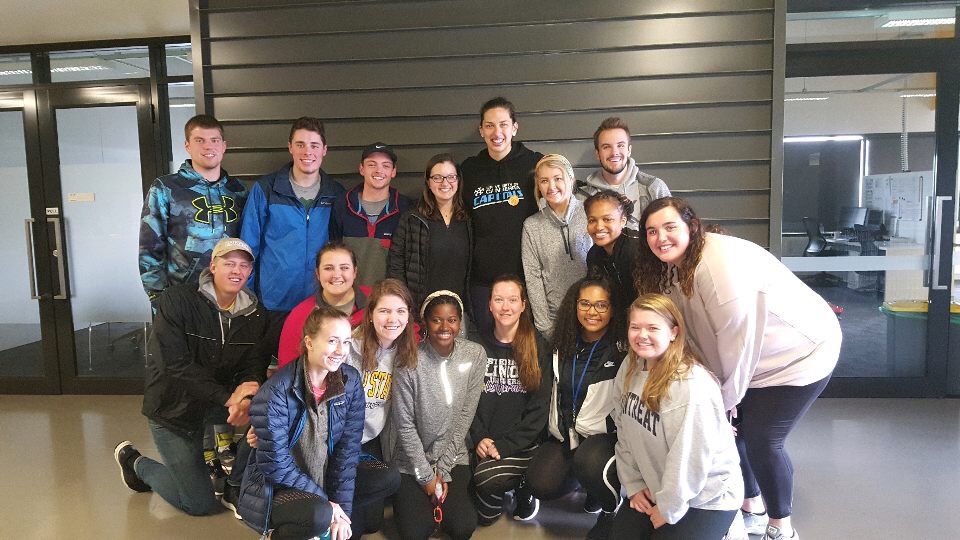 Allison Farrell, pictured second from left on the bottom row with her fellow classmates. Photo submitted.
This past summer, Allison Farrell, a junior exercise science major and Honors College student, studied abroad at the University of Canberra in Australia. "She's so much of what we look for in a student," Dr. Becki Battista, professor in the Department of Health and Exercise Science said. Farrell is also on the Executive Board for Exercise Science Club and a Health Professions Student Advisor. An avid runner, she's competed in many races and volunteers as a coach for Girls on the Run.
Farrell works with Dr. Battista, Dr. Richard Christiana, assistant professor in the Department of Health and Exercise Science and Dr. Joy James, professor in the Department of Recreation Management and Physical Education, in the HOPE (Healthy Outdoor Play and Exercise) Lab and has been awarded a grant for being a first-time presenter at a regional conference.
Q: Tell us about your program in Australia.
A: The program was called The Australian Sporting Industry and we learned about various sports in Australia, alongside visiting the Australian Institute of Sports and countless sporting events. It was a group of sixteen students from all over the U.S., and we traveled to Melbourne, Canberra, Sydney and Cairns.
Q: How did you find out about this opportunity?
A: Through Appalachian State University's Study Abroad Website; it was on a list of summer programs. This program was sponsored through International Studies Abroad (ISA), who work closely with Appalachian.
Q: What made you initially interested in studying in Australia?
A: I've always wanted to visit Australia and when I was looking at summer program options, I jumped at the opportunity.
Q: Tell me a little bit about your research project that you did while abroad.
A: While there, other students and I attended planned events with the group, alongside conducting a research project and creating a poster to present the findings. The project could be focused on anything, as long as it related to the Australian Sporting Industry. I research sports-related concussion rates, protocols and their perception in both the U.S. and Australia. Since these countries have very different popular sports, I wanted to see if there was a link between specific sports and concussions. In Australia, their most popular sports (Rugby, Australian Football League (AFL), Soccer) don't use protective equipment as much as those in the U.S. Although, I found that Australia and the U.S. both have popular sports with high concussion rates. The differences in the sports played, as well as the amount of protective equipment worn during play, impact the concussion incidence rates. Despite these differences, these countries have similar protocols, prevention, treatment and return-to-play policies put in place.
Q: What was one of your most memorable moments in Australia?
A: Seeing a show at the Sydney Opera House, holding a koala, petting a kangaroo and skydiving in Cairns.
Q: How did studying abroad impact your future career?
A: In the future, I want to become an Occupational Therapist (OT) and I had the amazing opportunity to shadow some of the Occupational Therapists at the Royal Children's Hospital in Melbourne. On the first day, I shadowed an OT who specialized in neurology and on the second day, I shadowed an OT who worked with kids with cerebral palsy. I loved the fast-paced atmosphere of the hospital, as well as the interesting cases; it made me realize that I would love to work in a hospital in the future. Additionally, traveling 10,000 miles away by myself helped me to grow as a person and to develop skills such as flexibility, creativity and inventiveness, which are traits that I will definitely use as an OT.
For additional information on how you can participate in an Education Abroad experience, visit Appalachian's Office of International Education and Development.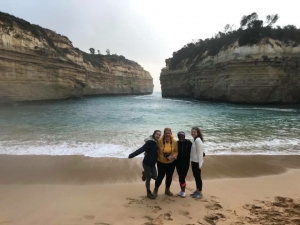 Tags: