By Bryan Belcher and Gary McCullough
Boone, N.C. — Appalachian State University's Interprofessional Clinic is open for business!
As part of The Blue Cross North Carolina Institute for Health and Human Services (IHHS), which provides interdisciplinary clinical services, community outreach and training programs, the IHHS Interprofessional Clinic expanded into the newly constructed Leon Levine Hall for Health Sciences in 2018. Originally established in Appalachian's University Hall located on University Hall in Boone, North Carolina, the clinic served--and continues to serve--children and adults with a variety of needs. These services include audiology, speech and language assessment and treatment, a preschool language classroom, music therapy, psychology services and counseling for Appalachian's own faculty and staff. An interdisciplinary program for individuals with autism is housed in University Hall, along with a family resource center called the Hub for Diverse Abilities. The expansion into Levine Hall (across from Appalachian Regional Healthcare System) allowed for more adult and medically-related assessment and treatment programs, including audiology assessments and hearing aid fittings, voice and swallowing assessment and treatment, social work consultations, nutrition assessment and counseling, and a variety of interdisciplinary programs supporting healthy living and aging. The new facility houses 2,000 square feet of clinical space for individual and group sessions, as well as a simulated apartment for working on activities of daily living and functional needs, a voice and swallowing lab and a telehealth suite.
In response to COVID-19, the IHHS Interprofessional Clinic was closed down this past March, but the Clinic Director and staff worked with affiliated clinical programs to get essential services up and running as quickly as possible. Whether students were able to be on campus for clinical training or not, certain health-related needs had to be met. As a result, the patients who are receiving services have expressed their appreciation to the staff for reopening the clinic in a thoughtful and safe way. According to the clinic's audiologist, Dr. Ben Russell, many patients have personally thanked him for opening the clinic. One individual said, "Thank you so much for taking so many precautions to keep me safe." Another stated, "I will be at my next appointment with bells on and wearing my mask."
Audiology and Voice and Swallowing services were approved to resume in person on a limited basis in Levine Hall during the last week of May and are now in operation daily. As the only clinic providing adult voice and swallowing therapy in the region, it was imperative that the IHHS Interprofessional Clinic begin providing these needed services as soon as possible. The clinic's strong collaboration with the physicians and providers in the Appalachian Regional Health System enables them to meet the needs of these patients. Audiology patients, waiting on services ranging from a new and profound hearing loss to hearing aid repair needs, can once again receive the services they need in person at Levine Hall.
Other essential services have continued to be provided to the community through telehealth, such as psychology services, speech therapy for children, counseling for Appalachian's faculty and staff, and case management for individuals and families. A complete list of current services can be found below.
Current Telehealth Services include:
Children & Adult Speech and Language Assessment & Treatment

Psychology Evaluations and Therapy

Counseling for Appalachian's Faculty and Staff
Current In Person Services include:
Adult Voice and Swallowing Assessment and Treatment

Audiology Services (Hearing Assessment & Hearing Aid Fittings)
The IHHS Interprofessional Clinic staff developed prevention procedures to minimize risk as much as possible for faculty, staff and clients based on the current Center for Disease Control and Prevention (CDC) protocols. For example, all employees must have their temperature taken upon arrival to the clinic and must wear face masks while interacting with clients and while working within six feet of other employees. Clients are greeted at the outside entrance to have temperature checked. Client appointments are made at intervals to support physical distancing and only clients who need physical assistance or have cognitive issues (or minors) can be accompanied by a guest in the waiting room for the visit. The waiting room and exam rooms are wiped down before and after each visit with a CDC approved cleaning wipe.
The IHHS Interprofessional Clinic exists to provide clinical training experiences to undergraduate and graduate students in clinical training programs. In doing so, the clinical faculty, staff and students are proud to be able to offer quality services to meet the needs of our community. It will continue to operate in accordance with state and CDC guidelines and expand the services it is providing as deemed safe. And while our students are currently assisting with telehealth services, the clinic looks forward to welcoming them back in-person as soon as possible.
For more information, or for an appointment, please call 828-262-8658 or send an email to: ipc@appstate.edu. You can also find a complete list of our Affiliated Clinics here.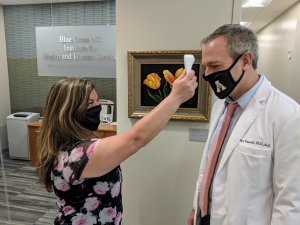 Tags: