By Audrey Gurkin
Boone, N.C. — Ashley Shapiro graduated from Appalachian State University in 2011 with a degree in psychology and a minor in Spanish. After receiving an excellent foundational education from Appalachian, her path has since taken her to her dream job as an Occupational Therapist in Charlotte, North Carolina.
Originally from Charlotte, Shapiro thought she wanted to go to one of the big schools like the University of Georgia or Clemson. But her parents wanted her to visit Appalachian. Hesitantly, Shapiro agreed and now laughs about her dad mispronouncing the university's name. Although, her father made the initial mistake of saying "App-a-LAY-chun," he knew Appalachian's reputation and location would be appealing to Shapiro. "Once we visited, I knew this was the place for me. All three of us looked at each other with the acknowledgment this was going to be my new home," said Shapiro.
While Shapiro was certain of her school choice, she wasn't as certain of her major. "During my freshman year, I took a course called Exploring Majors. I always knew that I wanted to help others and while my parents thought I would be a great doctor, I didn't think that was the fit for me, so I started exploring classes in healthcare. It was during this time that my dad suggested occupational therapy (OT) and that piqued my interest." Shapiro spoke with her advisor about pursuing an OT degree and she guided her towards the health science classes that enabled her to complete the appropriate prerequisite courses. Shapiro says her advisor "was a tremendous resource and along with the support of my professors, I had the guidance and knowledge I needed to prepare me for OT school."
Shapiro also interned with Appalachian Regional Healthcare System and a private OT practice in Boone which proved to be invaluable when she applied to graduate school. According to Shapiro, "I wanted to attend the best OT school in the nation — the University of Southern California in Los Angeles — and with the help of my professors and my advisor guiding me, I was accepted. Even though I was a psychology major and ended up going into the healthcare field, the support I received from Appalachian gave me the confidence to know I would be successful in my career as an occupational therapist."
When asked about her words of advice for those considering occupational therapy, Shapiro was quick to respond, "I truly think this is the best occupation in the world! Take advantage of your professors. Ask them questions, share your doubts and concerns because they are the professionals and they have your best interests at heart." Good advice.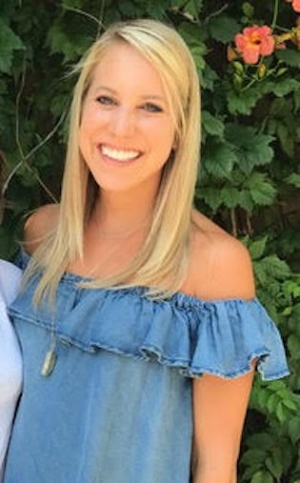 Tags: