By Amanda Mlekush
In December, the Beaver College of Health Sciences will participate in Commencement exercises with more than 200 health sciences students expected to graduate with either a bachelor's or a master's degree from the college.
Here are some excerpts from 16 of those graduates sharing their favorite college memory, the folks who encouraged them along the way or what surprised them during their time as a Mountaineer.
Undergraduate students
Communication Sciences and Disorders
Iyana Benjamin (she/her)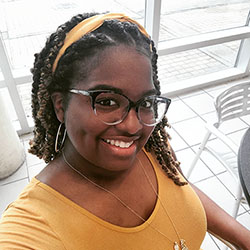 Iyana Benjamin said college has taught her "it is ok to be flexible and make mistakes. It comes with learning and I had amazing professors to seek advice from along the way." Iyana is graduating with her bachelor's in Communications Sciences and Disorders and said when she started her program, she knew she was in the right place. Iyana is from Greensboro, earned a minor in psychology and plans to pursue her master's in speech language pathology after graduation. She credits her mom with pushing her to go far and encouraging her with every step.


Sidney Cox (she/her)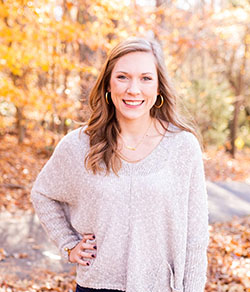 Sidney Cox said her experiences working as a member of a team while earning her bachelor's degree in Communication Sciences and Disorders have changed her personality.
"One of the most surprising things I've learned is how to work with others as a team. I tend to be quiet and shy and working with others used to be a weakness but through the experiences at App State, I've gained collaborative skills that will benefit me for the rest of my life," she said. Sidney is from Randleman, NC, and plans to attend graduate school at App State to pursue her master's in Speech-Language Pathology.
Exercise Science
Kennedy Williams (she/her)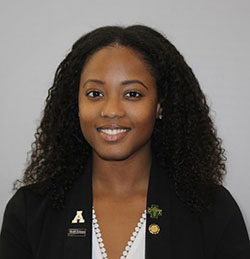 After graduating with her bachelor's in Exercise Science, Kennedy Williams is planning to continue pursuing her dreams of going to medical school armed with the things she learned at App State.
"I gained the understanding that there isn't one set pathway to get to where I'm destined to be and realizing that this journey that I'm taking wasn't meant to be linear," she said, adding that "setbacks and obstacles are necessary for one to experience in order to evolve both mentally and physically."
Kennedy, who said one of her favorite memories was stepping out of her comfort zone in 2021 to try rock climbing, is from Raleigh and received her minor in Chemistry.
Health & Physical Education, K-12
Michael Ervin (he/his)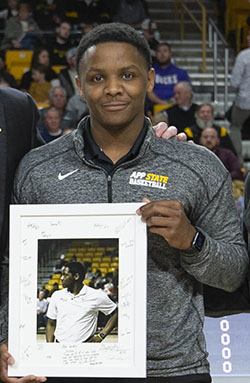 Michael Ervin said working with the App State men's basketball team taught him to work hard and embrace the process and his professors in Health and Physical Education exemplified and modeled how to be a high quality coach. Michael, who is from Morganton, is graduating with his bachelor's in Health and Physical Education grades K-12 in December and plans to enroll in graduate school and work as a graduate assistant on a basketball team.
He said App State's "family atmosphere and how everyone wants you to succeed and be the best version of yourself," were some keys to his success as a student.


Keaton Snethen (he/his)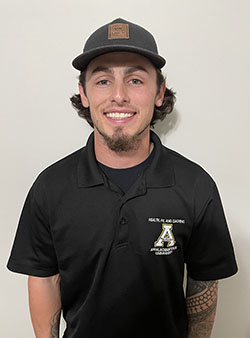 Keaton Snethen said he loved seeing all the snow last year which lived up to the Boone winters he had heard about before coming to App State. Snethen graduates in December with his bachelor's degree in Health and Physical Education and Coaching K-12 and plans to work as an assistant high school varsity baseball coach.
"During my time at App State, my program classmates became close and encouraged each other on the long days, finding ways to make classes more enjoyable. I am grateful that I had them on my college journey," he said. Snethen is originally from Rutherfordton, NC.
Health Care Management
Myasia Carson (she/her)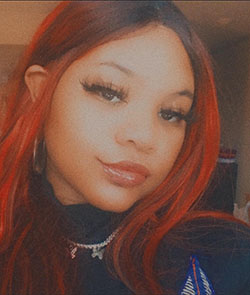 Myasia Carson's mom inspired her college journey and instilled her sense of determination and perseverance. "My mom always stressed the importance of education, and she has been with me during every bump along the way in my college journey, whether it's just lending an ear and giving some advice or encouragement," Myasia, who is a Fleming scholar and a native of Spindale, NC, said. By attending early college in high school, Myasia is graduating in just 2.5 years with a bachelor's degree in Healthcare Management and minor in Psychology. She's considering a career in healthcare quality management and process improvement or data analytics while pursuing her master's in Healthcare Administration.
Nursing
Julia Santa Maria (she/her)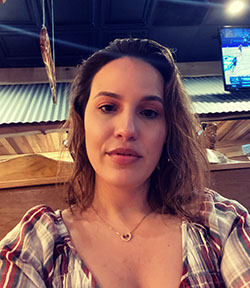 After graduating with her bachelor's degree in Nursing from App State, Julia Santa Maria plans to continue her studies to pursue an advanced degree to become a Nurse Practitioner or a Certified Registered Nurse Anesthetist. Julia said while in college she learned that applying effective leadership is a critical component in delivering optimal patient care.
A native of Miami, Florida, Julia said she appreciated the encouragement she received from family, friends, colleagues and the Nursing faculty at App State.


Shelly Wenzel (she/her)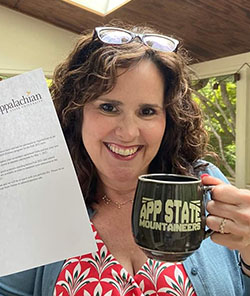 Shelly Wenzel is earning her bachelor's degree in nursing through App State's online RN to BSN program designed for registered nurses who want to earn their degree while continuing to work in their field. Shelly said she enjoyed attending sessions in the nursing simulation lab in Levine Hall as a colleague and a student.
"The inclusivity and support my nursing professors offered was inspiring and helped me accomplish my goal of earning my degree," she said, adding, "my entire family was there every step of the way, especially my husband and kids." Shelly, who is from Raleigh, is now enrolling in the master's of Nursing Education program at App State and says "once a Mountaineer, always a Mountaineer!"
Recreation Management
Drew Smith (he/him)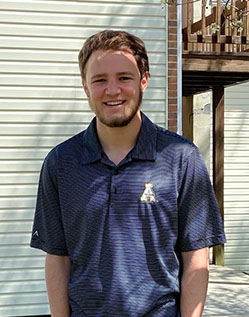 Celebrating with friends in Boone after the App State football team upset Texas A&M in September is one of Drew Smith's favorite App State memories. Drew, who is from Charlotte, is graduating with a bachelor's degree in Recreation Management with a concentration in Parks & Recreation Management. Drew credits faculty and staff members Cheryl Eddins, Dr. Shannon Cline and Angela Shook for inspiring and mentoring him.
"I really enjoyed my Program Planning course with Dr. Cline because it gave me a chance to get into the recreation field and learn how to properly run a program effectively. I feel as if this was a unique opportunity for me to participate in an in-field experience that many other programs or schools don't offer," he said.
Social Work
Javonta Edgerton (he/his)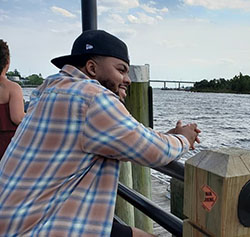 Javonta Edgerton said that he was surprised at the diversity of potential career opportunities for social workers. A native of Morganton, he will earn his bachelor's in social work in December.
Javonta says he received encouragement from a lot of people but "Kellie Ashcraft made me fall in love with the social work program." He hopes to travel after graduation and see the country while pursuing a job working as a social worker in North Carolina.
Graduate Students
Exercise Science
Jay Harrell (she/her)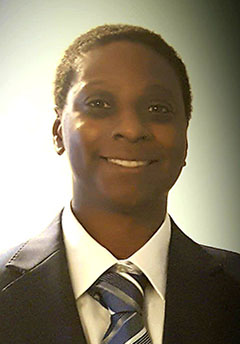 "I was surprised with how much complex information I was able to learn in a relatively short time period, and I couldn't have done it without our approachable and supportive faculty," said Jay Harrell, an Asheville native who earned her master's degree in Exercise Science.
Jay said that Dr. Kym Fasczewski and Dr. Matthew Rogatzki were great sources of encouragement and support throughout the process, including developing and defending her thesis. Jay plans to continue her education at the Logan University Doctor of Chiropractic program in 2023.
Nursing
Suzanne Trotter (she/her)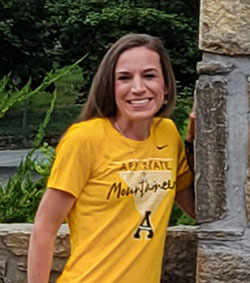 Suzanne Trotter's favorite App State memory is when Nursing Chair Dr. Kathleen Rayman said, "It might seem overwhelming now, but there will be a day when it all comes together and makes sense." Suzanne said through the course of her studies as a student in the master's of nursing education program, those words came to life and she began to love research and gaining a greater understanding of the subjects she was studying. When she was considering whether or not to go to graduate school, Suzanne said her mom inspired her to continue her studies.
"My mom, who graduated from App State 50 years ago as an educator, taught me the importance of hard work and her lifelong passion for learning is evident every day. She believed in me even during the times I doubted myself and pushed me to be and do my best." After graduation, Suzanne plans to teach nursing at the college level.
Nutrition
Brenda Lissette Ramirez (she/her)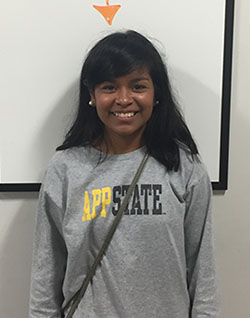 Earning her master's degree in Nutrition represents a major accomplishment for Brenda Lissette Ramirez, who graduates in December with plans to work on behalf of people facing food insecurity. Brenda credits her parents, who immigrated to the US, with encouraging her to get an exceptional education and for their patience and support. During her studies, Brenda said learning that food can either help or harm you is one of the most surprising things she learned. "Through my studies, I've learned the many different ways nutrition can benefit and harm a person. Therefore, it's essential to inform others that there is no one diet that fits all. Rather, there's a special way to eat for every person due to many lifestyle factors," she said. Brenda's hometown is Winston-Salem, and she earned her undergraduate degree in Nutrition from App State.


Erin Walker (she/her)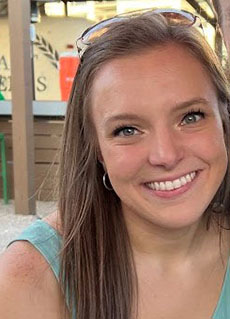 Erin Walker plans to begin working in Public Health Nutrition to help folks in rural areas after earning her master's online in Nutrition with a Public Health concentration. Erin said she was surprised to learn about the extensive needs of people in rural counties who live in food deserts without access to fresh and healthy foods. "It is our job as public health professionals to make those services more accessible for everyone," she said. Erin is from Ithaca, NY, and currently lives in Raleigh.


Speech-Language Pathology
Courtney Hale (she/her)


Speech and language have an incredible amount of complexity and are tied to neuroscience, development and physical and mental well-being, said Courtney Hale, a native of St. Louis who is graduating with her master's in speech-language pathology and plans to work as a speech-language pathologist in education. Courtney said one of her favorite App State memories was participating in Theatre and Therapy, a partnership between the Institute for Health and Human Services and the Theatre and Dance department. "I loved getting to see everyone come together at the end of the semester to celebrate our performances," she said.


Emily Steffen (she/her)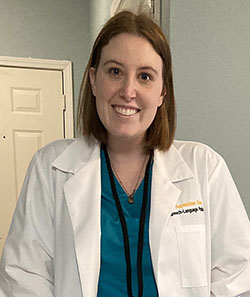 Working to assist patients with speech and language challenges was a key part of Emily Steffen's App State educational experience.
Emily, a Charlotte native who is graduating with her master's in speech-language pathology, said she received encouragement and compassion from her mentors including Dr. Jordan Hazelwood, Rebecca Smith, Emily Hornback and Emily Hutelmyer. After graduation, Emily says she plans to continue working with patients at the Interprofessional Clinic at Levine Hall and at Watauga Medical Center.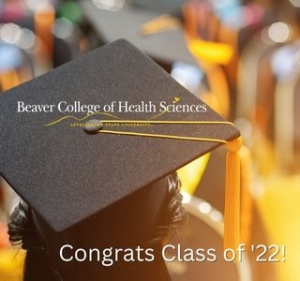 Tags: