By Amanda Mlekush
Dr. Herman van Werkhoven, associate professor of Exercise Science, has been selected as one of 11 Appalachian State University faculty to receive a 2023-2025 GRAM award which provides financial support to mentor graduate students through collaborative research. (Photo caption: Dr. Herman van Werkhoven demonstrates the size of a smartphone which will be used to conduct this research project.)
van Werkhoven's research will test the validity of tracking complex human movements using smartphones, a cost-effective and accessible alternative to a traditional laboratory environment. His study, entitled "Validation and Implementation of a Cost-Effective, User-Friendly Human Motion Tracking Framework," tests a new open source algorithm Stanford University researchers developed called OpenCap which uses two Apple iPhones, tripods and a checkerboard to track movement.
(Photo caption: Dr. Herman van Werkhoven stands on one of the sophisticated pieces of equipment in App State's biomechanics lab while being monitored by Exercise Science graduate student Shawn Roberts.)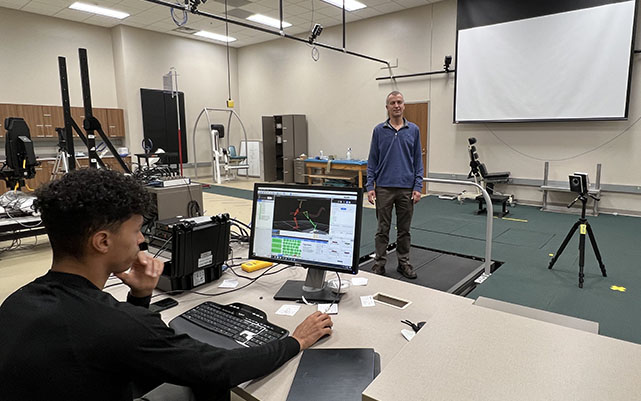 "In our biomechanics lab (at App State), we have highly specialized equipment that can track human movement, but not everyone has access to that type of environment," said van Werkhoven. "This research allows us to test movement outside a laboratory using much lower cost pieces of equipment and comparing the results, finding areas where the newer method has limitations and other areas where results are comparable."

During the study, van Werkhoven plans to work with a graduate assistant funded by the $28,000 GRAM award to analyze different types of movement to test the validity of the new technology.
"We may track how an ankle joint functions in someone with a gait disorder, and use this information to suggest what type of rehabilitation could be beneficial; we may also study shoulder movements from high performance athletes like baseball players to determine how the this movement is different when throwing a curveball compared to a fastball," he said. "We'll then work with a clinician or coach to figure it out to tailor the information to what they want to know."
van Werkhoven has begun recruiting the graduate assistant who will assist with the project, which officially begins in fall 2023. This grant extends the work van Werkhoven began when he received a November 2022 award of almost $5,000 from the University Research Council Grants that allowed him to conduct a feasibility study about this project.
Other recent Beaver College of Health Sciences GRAM recipients who still have active awards include:

(2022-2024)
Dr. Leah Hamilton (Social Work)
Dr. Jennifer Howard (Athletic Training)
Dr. Alan Needle (Exercise Science)
Dr. Brooke Towner (Recreation Management)

(2021-2023)
Jonathon Stickford [Dr. Becka Kappus, Spring 2023 (Exercise Science)

About the Beaver College of Health Sciences
Appalachian State University's Beaver College of Health Sciences (BCHS), opened in 2010, is transforming the health and quality of life for the communities it serves through interprofessional collaboration and innovation in teaching, scholarship, service and clinical outreach. BCHS offers nine undergraduate degree programs and seven graduate degree programs, which are organized into six departments: Nursing, Nutrition and Health Care Management, Public Health and Exercise Science, Recreation Management and Physical Education, Rehabilitation Sciences, and Social Work. The college's academic programs are located in the Holmes Convocation Center on App State's main campus and the Leon Levine Hall of Health Sciences, a state-of-the-art, 203,000-square-foot facility that is the cornerstone of the Wellness District. In addition, the college supports the Blue Cross NC Institute for Health and Human Services and has collaborative partnerships with the Wake Forest School of Medicine's Physician Assistant Program, the Appalachian Regional Health System and numerous other health agencies. Learn more at https://healthsciences.appstate.edu .
Tags: