By Amanda Mlekush
Beaver College of Health Sciences Professor Dr. Becki Battista has been elected the president-elect of the North American Society for Pediatric Exercise Medicine (NASPEM), a group of researchers, clinicians such as physical therapists and occupational therapists, healthcare providers and students who promote exercise science, physical activity, and fitness in the health and medical care of children and adolescents.
At App State, in addition to being a faculty member in the Public Health and Exercise Science department, Battista is director of the Office of Student Research, a team member of the HOPE (Healthy Outdoor Play and Exercise) Lab and serves as an Exercise Medicine ambassador. She has been a member of NASPEM since 2002 and joined their board of directors in 2020.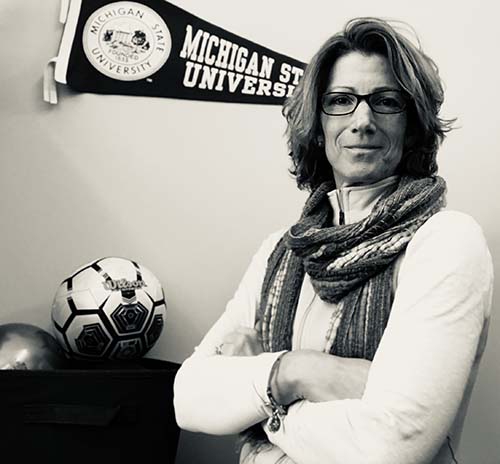 Battista, who has previously worked as an exercise physiologist for USA Swimming, has a passion for reaching children and youth and helping them develop a life-long desire for activity.
"I have a love for physical education and youth sports," Battista said. "In today's world, coming out of the COVID-19 pandemic, I believe we need to focus on teaching children and youth how to move so that they can be active for life. Kids need to have opportunities to learn how to move and we need to provide the resources to those working to teach them how to move."
As president-elect, Battista will serve a six-year term on the organization's board of directors, and hopes to make NASPEM the go-to place for information related to physical activity for children and youth. Her new leadership position also has implications for App State students interested in connecting young people with physical activity.
"I am excited to share my experiences with NASPEM with students and will be able to connect students to members within our organization that are working in pediatrics as well as encourage students to participate in NASPEM-related events including webinars, workshops and conferences," Battista said.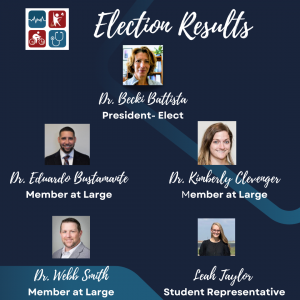 Tags: