The Beaver College of Health Sciences held its annual Celebration of Giving on Friday, March 15, 2019, in the Parkway Ballroom in the Plemmons Student Union with over 130 students, faculty members and donors in attendance.
The Celebration of Giving reception provides student scholarship recipients with the opportunity to meet their scholarship donors and personally thank them for their generosity. It also offers the donors the chance to hear how their donations have impacted the students' lives and careers.
This year the event celebrated existing and new donors including the launch of the endowed Beaver Scholars program. The Beaver College of Health Sciences expects to celebrate an additional 40 scholarship recipients next year! All of the college's new scholarship awards will range from annual awards of $2,500 up to $10,000.
The ceremony featured a welcome from Dean Marie Huff and greetings from Darrell Kruger, Provost and Executive Vice Chancellor, and Gary McCullough, Associate Dean filling in for Denise Levy, Associate Dean. Featured speakers included donor Richard Sparks and scholarship recipient Tristan Killian. Jim Fleri performed music for the event.
Richard Sparks, a donor and Appalachian alumnus, spoke about his appreciation and support of scholarships. He referenced Louis Armstrong's What a Wonderful World in his closing remarks, "To those who are receiving scholarship support...make this a wonderful world. To those of you providing scholarship assistance...you are making this a wonderful world." Sparks was also honored by Chuck Mantooth, President and CEO of Appalachian Regional Healthcare System, who established the Richard Sparks Scholarship which will be awarded for the first time next year.
Tristan Killian, featured speaker and scholarship recipient. Photo by Marie Freeman
Tristan Killian, a scholarship recipient pursuing a graduate degree in social work, spoke about the impact of his scholarship, "I came up with two words that encompass what a scholarship means to me: means and hope. While each can be powerful separately, together I believe they provide the required components for lasting change, success and dreams becoming reality. For example, the opportunity to obtain my education always existed but turning this opportunity into a reality hinged on having the means. My scholarship provided the means and once means were obtained, hope gave me the drive to follow through. A hope often fueled by the fact that someone thought enough of me to provide what was needed for me to have an education." Killian is a father of three, works full time, farms and is in graduate school. The gratitude for his scholarship was evident in his passionate speech. When Killian finished he received a standing ovation and even a few tears were shed by those in attendance.
View photos from the event and a copy of the program here.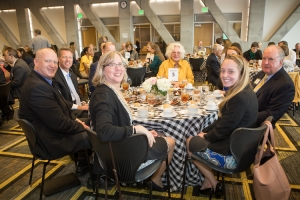 Tags: