By Amanda Mlekush
Calming an infant in distress, discovering healthcare career options, treating a 'patient' who overdosed and learning about swallowing disorders was part of a busy morning on Tuesday for a group of Watauga High School (WHS) students participating in 2022 Camp Med events held at App State's Beaver College of Health Sciences.
Eleven students from WHS participated in the simulations and hands-on learning at Levine Hall, part of a week of Camp Med activities designed to highlight career options available in health professions. A second group of students from Wilkes Central High School will be participating in a Camp Med session during late June.
Camp Med participant and rising high school senior Kimberly Mai plans to graduate WHS with her CNA license and said she hopes to work in pediatric medicine.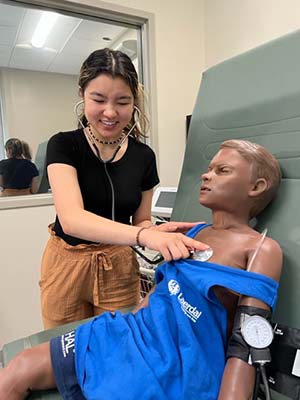 "This is my second time visiting the simulation lab, and the manikins are super realistic," Mai said, after using a stethoscope to listen to the breathing of a childlike manikin that was wheezing in the Nursing Simulation Laboratory.
Lee Wittman, nursing laboratory simulation tech analyst, told students that the experiences in the simulation lab are recorded to use for training after the events, and showed them the different substances and ways that are used to make simulations even more interactive with adding realistic smells and other props.
This week's Camp Med held at App State was coordinated by the Blue Cross NC Institute for Health and Human Services in coordination with Lindsey Gough, a school counselor in Watauga County Schools. Gough secured an Area HEC grant that funds the entire week of health and wellness exploratory experiences. Later in the week, the students will visit a cadaver simulation lab, the Wake Forest School of Medicine and a primate center for research.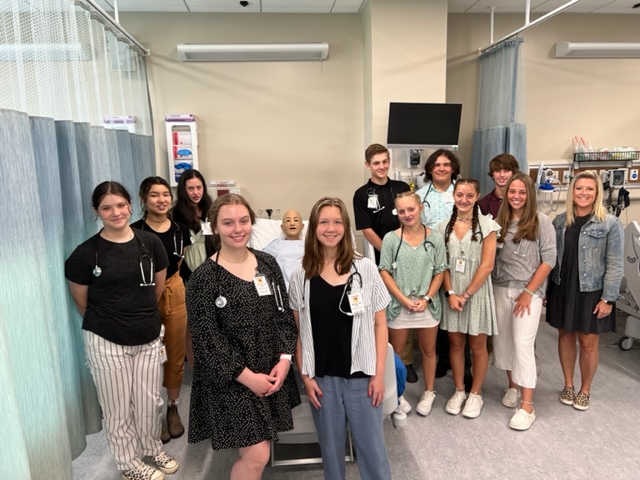 Learn more about Northwest AHEC's Camp Med, which is being offered in person for high school students in 17 North Carolina counties, and is available for eighth through twelfth grades via an online curriculum.
About the Beaver College of Health Sciences
Appalachian State University's Beaver College of Health Sciences (BCHS), opened in 2010, is transforming the health and quality of life for the communities it serves through interprofessional collaboration and innovation in teaching, scholarship, service and clinical outreach. BCHS offers nine undergraduate degree programs and seven graduate degree programs, which are organized into six departments: Communication Sciences and Disorders; Health and Exercise Science; Nursing; Nutrition and Health Care Management; Recreation Management and Physical Education; and Social Work. The college's academic programs are located in the Holmes Convocation Center on App State's main campus and the Leon Levine Hall of Health Sciences, a state-of-the-art, 203,000-square-foot facility that is the cornerstone of the Wellness District. In addition, the college supports the Blue Cross NC Institute for Health and Human Services and has collaborative partnerships with the Wake Forest School of Medicine's Physician Assistant Program, the Appalachian Regional Health System and numerous other health agencies. Learn more at https://healthsciences.appstate.edu.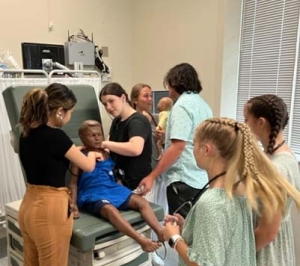 Tags: