By Audrey Gurkin

Boone, N.C. — This May, Dr. Brent James, Senior Lecturer in the Department of Languages, Literatures and Cultures; Sarah Donovan, Lecturer in the Department of Social Work; and student Gabby Gil, Bachelor of Social Work (BSW), embarked on an exploratory trip to develop a better understanding of border issues and the organizations responding to the humanitarian crisis at our southern border.
During their time in the US-Mexico border region known as El Paso del Norte, they met with both professionals and volunteers who work with immigrants daily in helping to provide relief for their difficult circumstances. The organizations included Paso del Norte Health Foundation, Sacred Heart Church and Annunciation House. They also met with faculty from the Department of Social Work at the University of Texas at El Paso who took the time to familiarize them with their approach to educating students on border issues as well as the work they are actively involved in at the university and in the broader community to support their immigrant neighbors.
The purpose of the trip was to build connections with individuals and organizations involved in the important work of protecting the human rights of migrants, refugees and asylum-seekers crossing from Mexico into the United States. James and Donovan developed a network of new colleagues and friends who they plan to call on as they put together a study-away opportunity for Appalachian State University students. According to Donovan, "The course will be an Honors Seminar offered in the spring through the Honors College; we are tentatively calling it "LA FRONTERA: Histories and Current Realities in the Borderlands" and hope to incorporate a service-learning trip to the border region."
Dr. Brent James and Sarah Donovan. Photo submitted.
"It wasn't enough to just read about the situation and to see the images on TV - we wanted to experience what many call a humanitarian crisis for ourselves, and then work to create a program so that our students could do the same, a program that would have service-learning at its core," said James. "I'd also like to emphasize that the region is not helpless, the best responses and solutions are homegrown, not imposed from the outside and our work there has and will respect community know-how and values."
Gabby Gil. Photo submitted.
Gil also reflected on her experience and the impact El Paso had on her education, "I am so grateful to have been a part of this unique opportunity! I fell in love with the kind and welcoming El Paso community. I enjoyed learning about the various organizations in El Paso that provide support, aid and guidance to immigrants and asylum-seekers. It is important for us as students to educate ourselves on immigration policies/issues and the difficulties immigrants in our country face in order to learn how we can provide relief to immigrants in our own communities. I also believe it is important for us to take advantage of learning experiences that extend outside of the classroom."
Annunciation House. In a Gospel spirit of service and solidarity, we accompany the migrant, refugee, and economically vulnerable peoples of the border region through hospitality, advocacy, and education. We place ourselves among these poor so as to live our faith and transform our understanding of what constitutes more just relationships between peoples, countries, and economies.
https://annunciationhouse.org/
http://www.tgoldmanphotography.com/finding-humanity-at-the-southern-border.html?fbclid=IwAR0oB6xUpIpB96NB8mxCPjg9RYZAKqASPIg_cduSxjZLegdzunQyB0z_vzs
Founded in 1893, Sacred Heart Church continues to be an anchor in the neighborhood known as the "Segundo Barrio" or Second Ward. Throughout the years the parish has served the community's spiritual needs but beyond that are the many services and opportunities for individuals seeking to improve their lives. Along with the Jesuit community and the many friends, benefactors and volunteers, the Church has been able to respond to the needs of the area.
https://www.sacredheartelpaso.org/ministries
The Paso del Norte Health Foundation leads, leverages and invests in initiatives, programs, and policies that promote health and prevent disease in the Paso del Norte region. https://pdnhf.org/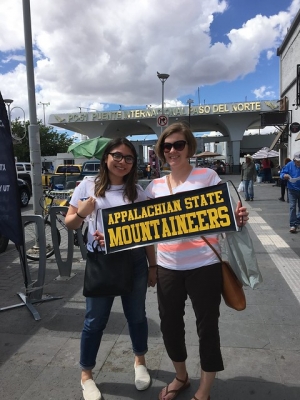 Tags: