Ashley Beard is a student in Appalachian State University's Department of Nutrition and Health Care Management's Public Health Nutrition Practice Graduate Certificate Program. She is also employed as a Family and Consumer Science Agent for N.C. Cooperative Extension, Yadkin County center.
Beard had a desire to create a shared garden for her community, and in early 2020 her dream began to take shape. The Community Garden began as a collaborative effort between Beard, Laken Royall, the WIC Supervisor in Yadkin County and Horticulture Agent Hannah Lepsch. With donations from the community and help from the local Park and Recreation Department to build the planter boxes, the Community Garden began to blossom.
The overall vision is to use the garden as an educational site and to provide fresh produce to the WIC clients. This past summer, Yadkin County Extension offered online classes on growing, serving and preserving the same produce found in the Community Garden. Horticulture Agent Lepsch teaches the classes on how people can grow the produce at home, while Beard discusses new recipe ideas and how to prepare the produce. The WIC employees and volunteers from the Yadkin Extension Master Gardeners do most of the upkeep in the garden.
From left to right, Horticulture Agent Hannah Lepsch, WIC Supervisor Laken Royall, Family and Consumer Science Agent Ashley Beard. Photo submitted
According to Beard, "This new partnership between Yadkin County WIC and N.C. Cooperative Extension to build a Community Garden in 2020 has been such a wonderful experience and one I hope to see continue for years to come! Our goal for the Community Garden is to reduce food insecurity in Yadkin County by educating the community in home gardening, nutrition and food preparation. We are so excited for this next year and all that we can do in our summer programming through the collaborative efforts in this partnership. We are gearing up for our Spring planting day where we will be planting some delicious produce, such as a variety of lettuces, herbs, onions, peas, carrots, and strawberries! With being awarded two grants, we are able to make some upgrades and additions to the garden that will lead to its sustainability. Again, we are so thankful for all the efforts from not just WIC but various organizations like the Parks and Rec Department and the Yadkin County Extension Master Gardeners that have led to our vision being made possible!"
Beard shared that the two grants will help make the garden sustainable. They plan to add more permanent signage, irrigation systems, gardening tools, incentives for their summer "Garden to Table" programs and much more with the much needed funding.
"We have gained so much community interest in this project since it is conveniently located at the WIC office and we are about to have our Spring planting day where we are planting a variety of greens, radishes, strawberries, a variety of herbs, peas, carrots, onions, and beets. At first, the WIC clients were very hesitant about the community garden but now when they come for their WIC meetings, they are now starting to ask to take home produce. We are excited to do more education and be able to provide more produce to the clients," said Beard.
For additional information you can contact:
Ashley Beard
Family and Consumer Science Agent
ashley_beard@ncsu.edu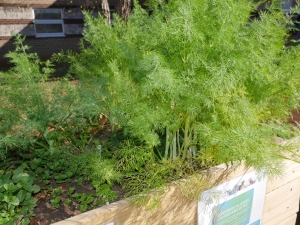 Tags: