U.S. Representative for North Carolina's 5th congressional district Virginia Foxx addressed graduates and guests at Appalachian's Department of Nursing RN to BSN Graduation Pinning & Honors Society Induction on September 12.
Foxx told graduates, "The opportunities for nurses are so great now… This is opening doors for you." She was also very praiseworthy of Appalachian's efforts in developing distance education programs, such as the RN to BSN program, which is fully administered online. She said "Appalachian is leading the way with using technology and people skills, which is shown in nursing."
Foxx also shared a personal experience about the impact a nurse had on her life. Following several weeks of extreme illness and visits to multiple doctors, it was eventually a nurse practitioner Foxx visited that she said "took the time to listen to me." Additional tests by the nurse practitioner showed Foxx had Legionnaires Disease and was administered the necessary treatment. "She saved me… I owe her my life," said Foxx.
Over 130 students graduated from the Appalachian RN to BSN program in August 2015. The part time degree completion program is designed for students who earned an associate degree of nursing or a diploma of nursing from a hospital program.
Graduates were repeatedly encouraged not to end their education at the undergraduate level. Foxx said, "What makes our country great is the ability to take challenges we face and turn them into opportunities… Make sure you always do things that open doors."
Foxx closed by telling graduates, "I commend you for your perseverance and wisdom."
Additional information about the Appalachian Department of Nursing and the RN to BSN program is available here.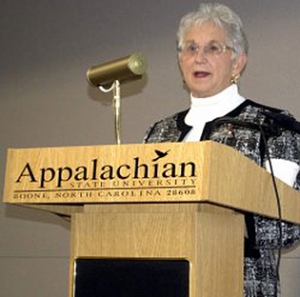 Tags: