BOONE- Voters across North Carolina went to polls on Tuesday and showed great support for the Connect NC bond referendum. Nearly two thirds of voters from 91 percent of precincts reporting voted in favor of the $2 billion bond.
Over two thirds of funding from the bond will support public universities and community colleges, including $70 million to support the construction of a new Beaver College of Health Sciences (BCHS) building at Appalachian State University.
This is the first statewide bond in 16 years, the last being a $3.1 billion bond supporting construction spending in the UNC system and community colleges approved by voters in 2000.
UNC system President Margaret Spellings responded to the bond passing, saying, "This is a great day for the UNC system and all of North Carolina. We are grateful to the voters for approving the Connect NC Bond package and for their demonstration of support and confidence in our public university and community colleges."
The new BCHS facility will allow for interprofessional collaboration among program areas in the college in a state-of-the-art 200,000 square foot building. The building complex will be constructed in association with the Appalachian Regional Health Care System, which also generously donated the land for the State Farm Road building site.
The funding also supports renovations to Edwin Duncan Hall, which was constructed in 1965.
Appalachian State University Chancellor Sheri N. Everts praised voters for supporting the bond and Appalachian: "The benefits to our state will include not only a boost to economic activity, but also improved health care. Appalachian State University's role in this growth is in providing quality health care professionals and we are excited that our university will receive funding to build a state-of-the-art teaching and research facility for the Beaver College of Health Sciences. Appalachian's newest college is making a difference in the lives of our students and enhancing health and quality of life in our state and beyond."
More information about the bond and how it's passing will benefit Appalachian is available here. Additional information about the Beaver College of Health Sciences is available here.
Header photo: proposed design for the new BCHS facility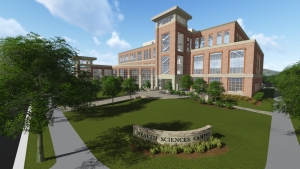 Tags: