By Amanda Mlekush
The Beaver College of Health Sciences has selected Dr. Benjamin A. Sibley as the new department chairperson for the Department of Recreation Management and Physical Education. Sibley, a professor in Health, Physical Education and Coaching who came to App State in 2007, is the former program director for the Health, Physical Education and Coaching program and has served as interim department chair since August.
The Department of Recreation Management and Physical Education has more than 60 faculty members and offers undergraduate majors in Recreation Management (which offers concentrations in Commercial Recreation and Tourism Management, Outdoor Experiential Education and Recreation and Park Management); and Health, Coaching and Physical Education (which offers concentrations in Sport Science and Coaching, and Public Health). In addition, the department provides courses for the university's general education wellness literacy requirements, instructing more than 6,000 students per year in classes ranging from snowboarding and yoga to active wellness.
"Ben quickly demonstrated his ability to effectively lead the department when he stepped into the role of interim chair beginning this semester," said Beaver College of Health Sciences Dean Marie Huff, PhD. "I appreciate his leadership philosophy of creating a strengths-based approach to nurture faculty and staff and continue the continuity of educating our students in an App State-centered approach to health and wellness."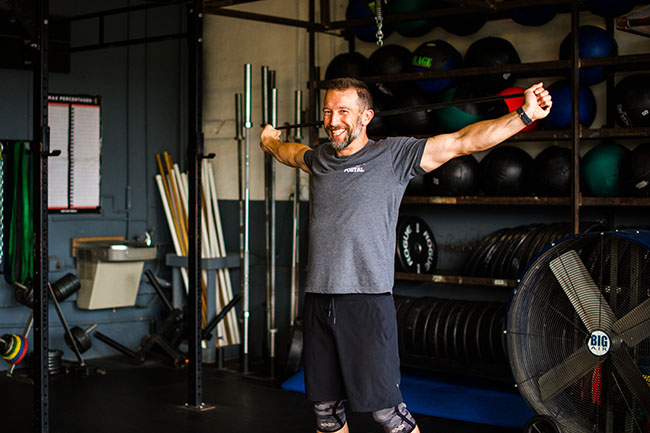 (Photo credit: Cynthia Viola Photography)

Sibley received a bachelor of science in health and exercise science from Wake Forest University, an MAT in physical education from the University of South Carolina, and a PhD in sport and exercise psychology from Arizona State University. He is an author of the popular physical education textbook, Fitness for Life and is designated as a Certified Strength and Conditioning Specialist (CSCS) by NSCA, a certified CrossFit Trainer (CF-L3), and a NASPE Physical Best Instructor. In 2017-18, he participated in the App State Chancellor's Academic Leadership Development Program (ALDP).
"From the deep, personally meaningful educational experiences offered in the Recreation Management program, to the diverse range and quality course offerings in the PE Activity program, to the innovative instructional methodology and curricular contributions of the HPEC program, there is no questioning the value and contribution of the RMPE Department to the overall Appalachian State University mission," said Sibley. "In the role of department chair, I will strive to increase awareness on campus of our department's strengths, as well as work with the faculty to continue to build and develop our programs."
About the Beaver College of Health Sciences
Appalachian State University's Beaver College of Health Sciences (BCHS), opened in 2010, is transforming the health and quality of life for the communities it serves through interprofessional collaboration and innovation in teaching, scholarship, service and clinical outreach. BCHS offers nine undergraduate degree programs and seven graduate degree programs, which are organized into six departments: Nursing, Nutrition and Health Care Management, Public Health and Exercise Science, Recreation Management and Physical Education, Rehabilitation Sciences, and Social Work. The college's academic programs are located in the Holmes Convocation Center on App State's main campus and the Leon Levine Hall of Health Sciences, a state-of-the-art, 203,000-square-foot facility that is the cornerstone of the Wellness District. In addition, the college supports the Blue Cross NC Institute for Health and Human Services and has collaborative partnerships with the Wake Forest School of Medicine's Physician Assistant Program, the Appalachian Regional Health System and numerous other health agencies. Learn more at https://healthsciences.appstate.edu.
Tags: