Dr. Karen Grimmer presents "Evidence-Based Health Care: A Global Perspective
The Beaver College of Health Sciences and the Department of Nutrition and Health Care Management hosted Dr. Karen Grimmer in October, 2016. Dr. Grimmer is the Director of the International Center for Allied Health Evidence at the University of South Australia. Her scholarly work includes allied public health quality and service delivery issues; evidence based practice theory, practice and implementation; discharge planning quality and aging in place; and adolescent spinal health. She has established long term, valued and formal linkages with research institutions in South Africa, Tokyo, Manila, Hong Kong and California. These partnerships have fostered collaborative teaching, research and researcher/ student exchanges. She was awarded a Lifetime Achievement Award by the Australian government for her leadership of the Centre.
During Dr. Grimmer's visit to Appalachian's campus, she presented to students, faculty, and staff on her experiences of working in South Africa and beyond to prevent chronic disease. Dr. Grimmer also met with students and faculty across the Beaver College of Health Sciences to discuss evidence-based health care and the development of clinical guidelines internationally.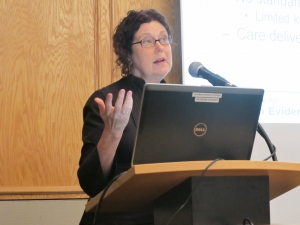 Tags: