Armed with cooking aprons, yoga mats and fitness tracking watches, a group of rambunctious kids took Leon Levine Hall by storm this summer. The Exercise and Art for Health (EArtH) summer camp of 2019 served both as a bridge between Appalachian State University and the Boone community and a research project. From the adult's perspective, EArtH's programming was informed by the beneficial effects of play-based physical activity and healthy food on child development. From the kids' point-of-view, it was a whirlwind summer of playing Head Chef and Yoga Instructor.
The EArtH summer camp provides play-based exercise, culinary classes and applied arts opportunities for children to promote healthy lifestyles in the community through research collaboration with Appalachian. The vision of the EArtH program is to become the benchmark used by academic and community-based collaborations to foster healthy lifestyles.
EArth Camp crew. Photo submitted.
Six Appalachian faculty members working in the Health and Exercise Science, Nutrition and Health Care Management, Theatre and Dance, and Recreation Management and Physical Education Departments designed the programming through evidence-based protocols. Along with faculty, students and local businesses allowed 11 campers (8 to 11 years old) to participate in the inaugural camp held at Leon Levine Hall of Health Sciences for six weeks. The summer camp involved six employees, six Appalachian faculty and a team of nine research assistants. The initiative raised donations from local businesses such as Earth Fare, Qworky, North Western Studios and Footprint Possibilities Inc. and private donors that were used to develop cooking classes, provide healthy snacks and give registration discounts to families.
Dr. Marco Meucci, Assistant Professor in the Department of Health and Exercise Science, who spearheaded the camp said, "I am very pleased with the program this year and I am already looking forward to organizing the camp again in the future!"
Below is a list of people that made EArth Camp a success:
Camp staff: Austin Lassiter, Kimberly Rivas, Austin Rozier, Lainey Hunnicutt, Annie Young, Ariel Christian and Erica Blackburn.
Faculty members: Marco Meucci and Kym Fasczewski (Exercise Science), Alisha Farris and John Arrowood (Nutrition), Emily Daughtridge (Theatre and Dance) and Benjamin Sibley ( Recreation Management and Physical Education).
Research team: Hwan Kim, Nick Tocci, Sarean Gaynor-Metzinger, Taylor Wilson, Lavinia Falcioni, Ludovica Cardnali, Dafne Ferrari, Ariel Christian and Erica Blackburn.
Sponsors: Earth Fare, Qworky, Footprint Possibilities Inc., and North Western Studios.
Services: F.A.R.M. cafe for the healthy delicious lunches; Josh Platt for designing and printing camp t-shirts and hats; The Camps and Conferences office at ASU for the administrative support.
Much thanks to all!
Campers help prepare food in the Quantity Foods Lab in Leon Levine Hall. Photo submitted.
EArtH summer camp Sponsors: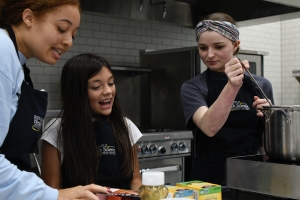 Tags: