Over 20 students and professors from the Exercise Science program in the Department of Health and Exercise Science attended the Southeast American College of Sports Medicine (ACSM) Annual Meeting in Jacksonville, Florida on February 12 through 14.
Eight Appalachian undergraduate and graduate students presented research to peers from other universities in poster sessions during the conference. Exercise Science lecturer Tracie Haines served as faculty representative for the group.
Undergraduate majors Liz Schweighart, Matt Shiver, and Sarah Brady represented Appalachian as one of 19 teams from the region in the "Student Bowl," where students take part in a Jeopardy-style competition answering questions about exercise science for a chance to compete at the ACSM national meeting.
Dr. Rebecca Battista, Professor of Exercise Science and Interim Director for the Office of Student Research, was pleased Appalachian students attended the conference. Battista said, "It really is one of my favorite conferences and such a great way to get students involved."
The meeting represented the greatest attendance to date from regional chapter members with over 900 attendees at the event.
The Southeast Chapter of ACSM supports the mission of the ACSM and is a national leader in program design, research, student development, and membership involvement. The chapter includes members in Alabama, Florida, Georgia, Kentucky, Louisiana, Mississippi, North Carolina, South Carolina, Tennessee, and Virginia.
More information about the Southeast Chapter of ACSM is available on their website. Information about the Appalachian Exercise Science program is available here.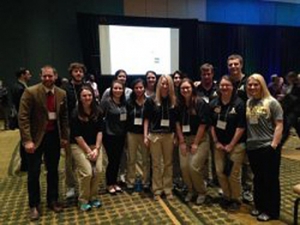 Tags: