BOONE- The inaugural class of the Boone cohort of Wake Forest School of Medicine physician assistant (PA) students graduated with Master of Medical Sciences degrees during a ceremony in Winston Salem, NC on May 14. The cohort launched in June 2014 and marked the first class of Wake Forest PA students to study on the Appalachian State University campus.
Wake Forest Baptist Medical Center and the Appalachian Beaver College of Health Sciences announced the partnership in early 2014. The Wake Forest distant campus in Boone was established to train primary care physician assistants to help address the critical need for health care providers in western North Carolina.
Following a series of courses at the primary Wake Forest University campus in Winston Salem, the students completed nine months of preclinical training on the Appalachian State campus in Boone and a year-long series of required and elective supervised clinical rotations in locations around western North Carolina and the region.
Ruth Ballweg MPA, PA-C was the keynote speaker at the ceremony. Ballweg is Professor and Senior Advisor for Advocacy, Health Policy and PA Global PA Development of MEDEX Northwest Physician Assistant Division in the Department of Family Medicine at the University of Washington, School of Medicine, and was one of the first formally-trained physician assistants in southern Oregon. She pioneered PA program satellite campuses and was instrumental in planning the distant campus in Boone.
During orientation in July 2014, Beaver College of Health Sciences Founding Dean Fred Whitt told the inaugural cohort, "You will be part of history, as you are the first of what we hope will be many outstanding Wake Forest PA graduates who participate in the Appalachian State cohort. The inter professional educational opportunities you will experience will provide you with a unique competitive advantage."
A second class of 24 Wake Forest PA students started studying in Boone in summer 2015 and the third cohort will begin in summer 2016. The students are very active in Boone and on the Appalachian campus with many participating in volunteer programs in the community.
The Wake Forest PA students study on the Appalachian campus in a newly renovated portion of University Hall, which includes state-of-the-art classrooms, labs, and patient treatment rooms.
The Wake Forest PA program has been recognized by U.S. News & World Report as one of the top PA programs in the country. The Beaver College of Health Sciences is the second largest college at Appalachian and committed to helping address the health care needs of North Carolina and beyond.
Header Image: Founding Dean Whitt addresses graduates during the May 14 ceremony.
Image: Wake Forest PA graduates during ceremony.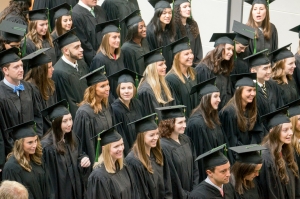 Tags: