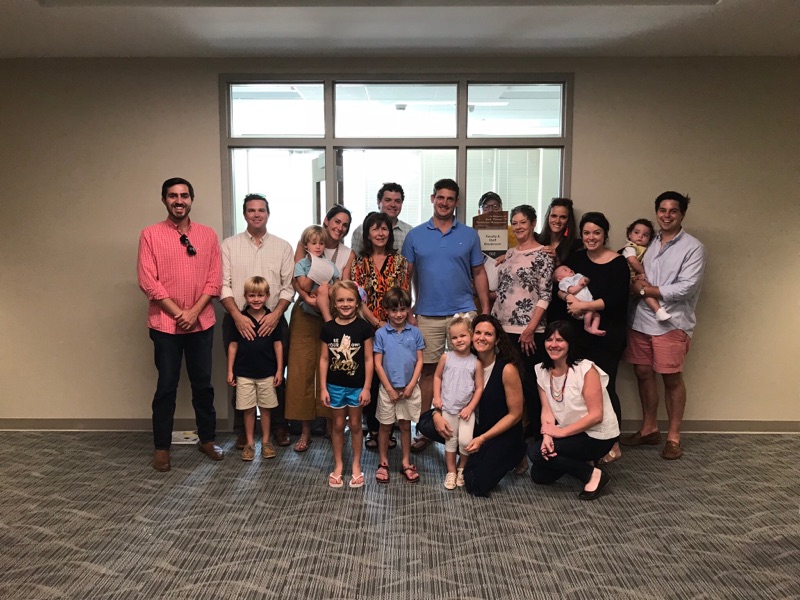 The family of Andy Thomas at the Leon Levine Hall Grand Opening. Photo submitted.
Gene "Buddy" Thomas '06 wanted to honor his uncle Andy and his love of Appalachian State University. After discussions with his family, Will Sears, Director of Development for the Walker College of Business and Jenny Ward, Director of Development for the Beaver College of Health Sciences, the Thomas family decided to dedicate a room in Andy Thomas' memory. Since he was a Health Care Management major and loved all Boone has to offer, the family decided on a room with a view in the Leon Levine Hall of Health Sciences. Once the room was finalized, the family thought it would be a good opportunity to come together for the Leon Levine Grand Opening to celebrate Andy's life, the naming of his room and enjoy the celebration of the building.
Charles Anderson "Andy" Thomas Sr., passed away April 2, 2018 in Raleigh, NC. A native of Roxboro, NC, Thomas graduated from Person Senior High School '72 and Appalachian State University '78 where his feats included leading the Mountaineers football team to many victories, scaling Howards Knob in only topsiders and most importantly, meeting his bride over a game of pinball. Mr. Thomas was a microbiologist and Quality Control Specialist for the Miller Brewing Company. The legacy he leaves is one of living life selflessly, loving family unconditionally above all else and having a playful sense of humor.
The Thomas family all agree that Andy was one of the most charismatic and likeable people you would ever meet — he always wanted to make his friends and loved ones smile and laugh. One of the family's favorite stories is about him attending an App State football game (after his playing days at App State) at Western Carolina. "Back then, Western Carolina ROTC shot a cannon after they scored. Andy walked down to the end zone and made friends with the Western students in charge of shooting the cannon. In conversation, he asked how the cannon worked and the students told him. During that conversation, App State scored and Andy capitalized on the knowledge he had just learned. He shot the cannon and ran back to the App State seating section a hero. To our knowledge, this is the only time the Western cannon has fired for an App State touchdown," recalled Buddy Thomas.
According to Thomas, "I have to give credit to Andy for my choosing to attend Appalachian, he truly loved AppState and Boone and said it was one of the best decisions he ever made. I too have to say, it was one of the best decisions I ever made. Andy's legacy will live on through his family and friends, but we wanted to honor him by making sure his legacy lives on at one of his favorite places in the world."
Anne Lassiter, Andy's daughter, reflected, "We've been hearing stories about our dad's time at AppState our whole lives. I think a piece of him has always been and will always be in Boone."
The family so enjoyed their celebration of Andy's life and favorite places, they have decided to make the trip to Boone an annual event for all 20 of them!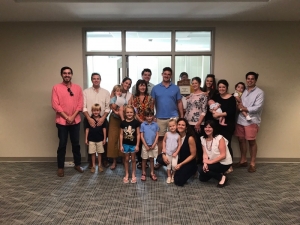 Tags: