The Beaver College of Health Sciences is proud to recognize seven of our oustanding fall 2021 graduates: Miranda Pennachi, Maddie Osborne, Sophie Osada, Haley Love, Elizabeth Evanko, Emily Benson, and Kiersten Abernathy. Learn more about these amazing graduates below.
Miranda Pennachi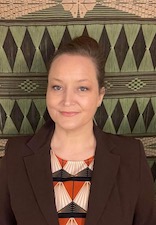 Miranda Pennachi is from Durham, North Carolina and she graduated in August with a Master of Health Administration degree. Pennachi states, "During my time at Appalachian State, I was able to spend a good deal of time getting to know my cohort. We represented many different health care systems, settings, and roles. The faculty at Appalachian State was highly responsive to the fact that students in our courses were on the front lines of responding to the COVID-19 crisis. Faculty and students were able to apply real-world experience from the pandemic to our studies and, in turn, apply theories from coursework to the day-to-day situations we were all managing."
Pennachi chose App State because she was drawn to the beauty of the area. According to Pennachi, "The idea of spending one weekend in Boone with my cohort was very appealing. It was also important that the program be online so I could have flexibility around my job and family life."
Her advice to others starting their own journeys at App State is, "Be open to new people and experiences that App State has to offer. I've made lifelong connections and grown many new skills in my time here. I look forward to returning to this beautiful campus as often as I can!"
Pennachi plans to continue growing in the UNC-Chapel Hill and UNC Health System. "I've seen what the organization has managed during the time of COVID-19 and I am excited that we are doing increasingly important work to support and improve the health of North Carolinians," said Pennachi.
Maddie Osborne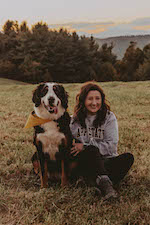 Maddie Osborne is from Jefferson, North Carolina and she will graduate with a Bachelor's degree in Health and Physical Education, K-12 and a Sports Science and Coaching minor. Osborne states the following about her time at App State, "My time at Appalachian State has been filled with unforgettable moments and amazing memories. Appalachian State became my home and my fellow students became my family."
Osborne chose App State because she grew up in Ashe County and "Boone has always been familiar to me and when I toured Appalachian's campus, it felt like home!"
According to Osborne, "One piece of advice that I would give to myself or others just starting their Appalachian journey would be to enjoy every moment, even the hard ones because it all goes by way too quickly."
Osborne plans to start her teaching career after graduation and apply to graduate school to earn her master's degree. Eventually, she plans to obtain a doctorate degree.
Sophie Osada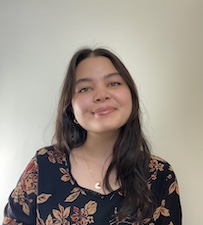 Sophie Osada is from Chapel Hill, North Carolina and she will graduate with a Bachelor's degree in Exercise Science and a minor in Psychology. Osada states the following about her time at App State, "I am so lucky to have been introduced to so many amazing opportunities that have allowed me to become a more confident and eager learner and reinforced what I want to pursue in life, all thanks to my professors and the faculty at App State."
Osada chose App State because "When I first toured App State, I thought the location and campus were so beautiful and the exercise science department seemed so great. I love that there was so much to explore in Boone and that I could spend more time in nature, which has been a great way to relieve stress. I also really enjoyed the sense of community in Boone and found it such a welcoming place."
Her advice to those just beginning their Appalachian journey is, "My advice would be to step outside of your comfort zone and try new things. There are so many resources and opportunities available at App, so try anything that piques your interest, and as you better understand what you are most passionate about, focus on the things that bring you the most joy. Being hesitant to try new things held me back a lot when I first came to App State. I had no idea that I was capable of so many things until I tried them. I first started participating in research with no idea what much of the research process entailed or what my role in all of it would be, but my curiosity in research motivated me to try it out and persist. I have been working with Dr. Ratchford, studying the effects of COVID-19 on the heart, and my experience in research has given me so many opportunities to learn, get a more hands-on education, and gain confidence. I really did not expect to gain as much as I did from the experience, but I have been able to present at conferences, receive awards, and now I am working on writing a manuscript. I have become a more well-rounded student and confident learner thanks to the opportunities that App State has provided me. I have found that the experiences that I grew from the most were the ones I was most afraid to start."
Osada plans to apply to a physical therapy graduate program this summer. Until then, she will continue her work as a physical therapist technician at BreakThrough Physical Therapy in Boone. "I have learned so much about the field from the amazing physical therapists that work at BreakThrough and my experience has reinforced my passion to pursue physical therapy as a career," said Osada.
Haley Love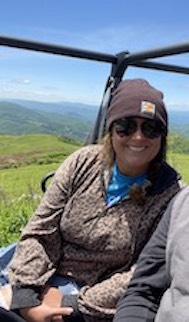 Haley Love is from Mt. Pleasant, North Carolina and she graduated in August with a Master's of Science in Nursing. Love states, "I am fortunate to have had the amazing graduate school experience I had at Appalachian State. It is true, nothing worth having comes easy, but at Appalachian State, you're given all the resources necessary to help you succeed. The Mountaineer Nursing family is just that, a family. Unrelenting support, shared passions, fruitful mentorship, and lifelong connections with the best nursing educators in the industry… what more could I have asked for?"
Love chose to come to App State in 2017, "when I began the RN-BSN program. After graduating in 2018 with my BSN, I knew that I was interested in looking for a graduate program that met all of my needs. I had such a wonderful experience at App State that when I finally made the decision to go to graduate school, I knew that App State would be my first choice. Education has always been important to me and the standards that Appalachian holds for their faculty and students align well with my personal philosophy."
Love shared the following advice, "For the nurses that are starting their BSN or MSN journey, the best advice I have is to take advantage of all the resources around you! You will have amazing faculty, advisors, librarians, clinical staff, and peers that can provide endless support. It is always important to think ahead but be sure to take it one day at a time. It will be over before you know it and one day you will look back and be so proud of all that you accomplished while in this program!"
Love plans to work in academia full time. One of her goals is to relocate to the High Country to serve the Appalachia region.
Elizabeth Evanko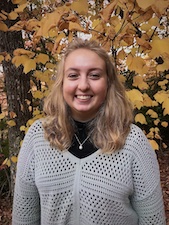 Elizabeth Evanko is from Morganton, North Carolina and she will graduate with a bachelor's degree in Communication Sciences and Disorders. Evanko states the following about her time at App State, "During my freshman year and the first snow, my newly made friends and I went out with barely any winter clothes on, running and throwing snowballs on the Rock. App State is such an amazing place."
Evanko chose App State because "I have always loved the mountains and couldn't see myself anywhere else after touring."
Evanko has this advice to those beginning their journey at App State, "To current freshmen, transfer students and my past self, enjoy and make the most of your time. You are in undergrad for only a few years and you never know what will happen. Take for example, a global pandemic, so make the most of every moment."
Evanko plans to attend graduate school for speech-language pathology with the intention of working primarily with adults in a medical setting.
Emily Benson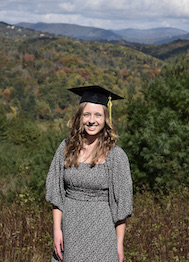 Emily Benson is from Cary, North Carolina and she will graduate with a Bachelor's degree in Public Health and a Nutrition minor. Benson states, "My time at App State has been nothing less than life changing. Through the endless support of my professors, doing undergraduate research on food and housing insecurity, and being able to intern at Hospitality House, I was able to discover and develop my passion for public health. I will always cherish my time here and be forever grateful to those who helped me find my path in life."
Benson chose App State because of the "beautiful mountains and scenery that the university is surrounded by and because of the small knit community that App State is known for having."
Her advice for those just beginning their Appalachian journey is, "I would tell anyone who is just starting their journey at App State to get involved in everything you can and really get to know your professors. College is all about making connections! All of the connections you make will help you to achieve your future career goals. I would also say to make sure to enjoy your time while you are living in the beautiful town of Boone. Take a parkway drive and go on a hike as often as you can!"
Benson plans to attend graduate school next fall to pursue a master's of public health degree with a focus on global health. She hopes to use that degree to, "help create a world where everyone worldwide has an equitable chance for a high quality, healthy life."
Kiersten Abernathy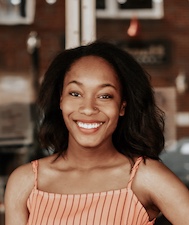 Kiersten Abernathy is from Hickory, North Carolina and she will graduate with a Bachelor's degree in Social Work. Abernathy states, "My time at App State has been remarkable. Not only have I received a great education, but I have also made lifelong connections and enjoyed every minute of my time here."
Abernathy chose App State because many of her family members have gone to App State and the university not only provided her major but also offered many different program options to choose from when considering the path she wanted to take to complete her degree. She plans to continue studying at Appalachian to obtain her MSW and hopefully pursue a job in children and family counseling as a social worker.
Her advice to freshmen or others just starting their journey at App State is, "Dedicate yourself to your education, but also don't forget to have fun, enjoy the journey and build friendships along the way!"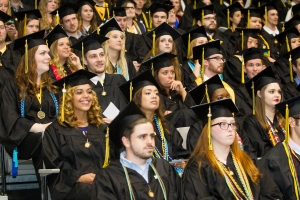 Tags: