By Audrey Gurkin
Sarah Stidham, a 2015 Communication Sciences and Disorders graduate, always knew she wanted to be a teacher. Her grandfather graduated from Appalachian State University and introduced her to Appalachian because of the university's reputation as a teaching school.
Stidham started out in the elementary education program, where she could pursue her interests in working with children. However, during her freshman year, she discovered our communication sciences and disorders program and that piqued her interest. Stidham had a few friends in elementary school that had cochlear implants and was always intrigued by the impact the devices had on her friends. So according to Stidham, "I changed my major on a whim."
Her whim paid off. Stidham currently works at Duke University Hospital as a speech-language pathologist. "I am amazed at where I ended up, with a few unexpected turns and good people to guide me (Thank you, Dr. Jennifer Buff, associate professor and retired professor Dr. Charles Morehouse in the Department of Communication Sciences and Disorders!) I feel I am in the right place now," said Stidham.
Stidham went to graduate school at North Carolina Central University and did her clinical placement at Duke University Hospital. She now works with the adult population to improve communication, cognition and swallowing functioning - any of which may be negatively impacted by conditions such as stroke, Parkinson's disease, ALS, traumatic brain injuries and more. "Duke is working now to expand their cochlear implants program to meet the needs of their patients and I'm excited to be a part of that initiative," said Stidham.
"As a speech-language pathologist, one of the things that enable me to connect with people and work well with people is my interpersonal skills and that's the mentality present at Appalachian. It's not just about the academics, which is the foundation, but how to interact with people from all walks of life. Appalachian stresses the importance of being able to utilize people skills in all that you do. To build yourself as a person, not just a student. That skill certainly prepared me to go out into the world with confidence and I think that's what makes Appalachian stand out. I was able to take that foundation into graduate school and set myself up for success," said Stidham.
When asked what her advice would be to her freshman self, Stidham said, "I would do it all over again. I had such a wonderful experience at Appalachian. I made great friends from outside of my home town and every step of the way shaped who I am now and where I am. My only advice would be to be open to the opportunities that present themselves to you. Take advantage of everyone that comes your way because you never know which one will lead you to where you should be."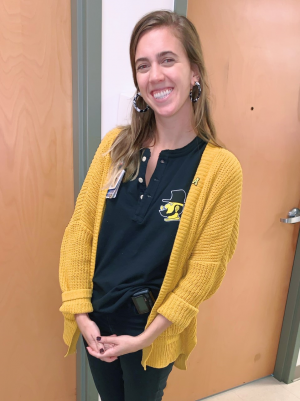 Tags: