By Amanda Mlekush

Anahi Espinoza understands the critical importance of understanding what a provider is saying during medical appointments when the language can be a barrier. Espinoza, a native Spanish speaker and graduate student in App State's Public Health Nutrition master's program, has been a translator and information conduit for her parents when they visit the doctor, dentist or ophthalmologist.
Now as a Spanish to English translator in the Surry County Health and Nutrition Center's Pediatric office, Espinoza is translating vital medical information to parents and caregivers who have brought their child in for a visit. With a Hispanic population in Surry County of 11 percent, the need for her assistance is great.
"More than anything, the caregivers really appreciate the effort that someone is there who can help them understand and serve as an advocate for them," she said.
Espinoza, who earned her bachelor's in Nutrition at App State, was hired to work for Surry County after completing one of the department's summer internships with the office of Women, Infants and Children.
"I learned so much during my internship with WIC and was able to work with mothers and their newborns to advocate for their nutrition," she said. "It was especially critical during the nationwide formula shortage last summer when we had to figure out how to feed those babies and help them get the nutrients they needed."
When she graduates with her master's in Public Health Nutrition, Espinoza hopes to continue working at a local, state or federal agency that works on behalf of the populations' health and well being. In the meantime, she will continue advocating on behalf of the patients who visit the pediatric office in Surry County and helping out her family when they visit the doctor.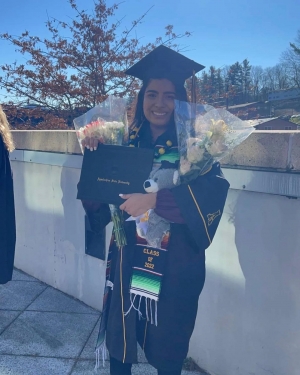 Tags: