Lindsey Turbyfill is a senior athletic training major from Charlotte, North Carolina. She is a recipient of the Beaver College of Health Sciences Dean's Scholarship and plans to graduate in May.
What aspects of your Appalachian undergraduate education best prepared you for your career?
With Appalachian State University's Athletic Training program at the bachelor's level taking up almost the full four years of my undergraduate education, I have had plenty of time to settle into my field of study and find who I will be as a clinician after I graduate. My education also included varied clinical opportunities, which were invaluable for preparing me for my career. The healthcare clinicians I have had the good fortune of working with at Watauga High School and App State's football, wrestling, cross country, and track & field teams have taught me practical skills and been excellent role models throughout my education.
Why did you choose Appalachian as a prospective undergraduate/graduate student?
I was entering college with a clear plan for my major and career, so I was mainly looking at schools with Athletic Training programs for undergraduate students, and Appalachian was one such school that caught my eye. Visiting Boone and Appalachian's campus during an Open House event during my junior year of high school was all it took for me to decide on Appalachian. I remember leaving campus thinking that I would eventually be back and would be living in Boone, and I am extremely fortunate to have seen that through by attending Appalachian for the past four years.
Describe your experiences in your department/program — what was the faculty like, how did they help you learn, mentor you, etc.?
Considering I have been in the undergraduate Athletic Training program at Appalachian since midway through my freshman year, I could not imagine what my college experience would be like without being around its faculty and students almost every day. The faculty within the program have also always been very understanding of each student's unique and changing career goals and are always open to feedback on the curriculum's content from the students' perspective. The faculty also found ways to improve our education by simulating real-world scenarios for us to experience in a safe learning environment, which provided a rewarding challenge that is very effective at improving our confidence clinically.
What opportunities did the Dean's Scholarship create that you might not have had otherwise?
The Dean's Scholarship has given me the ability to think freely about my options post-graduation and not feel boxed-in to one particular career path. To be more specific, without the Dean's Scholarship I would likely follow my undergraduate education with a graduate assistant position to help pay for graduate school. Instead, I will be able to work as an intern for a year or two post-graduation and decide whether to pursue Physician Assistant school or a graduate degree related to athletic training.
What stands out in your mind when you think back to your time as an App State student?
Besides the very personal and philosophical perspective of having found myself as a person, student, and growing professional during my time as an Appalachian State student, I will always remember falling in love with living in the mountains and making lifelong friendships. While my day-to-day life as a senior is much different, I can currently look back on my life as a freshman in a dorm very fondly, and I am so glad I had such varied and rewarding experiences as a college student.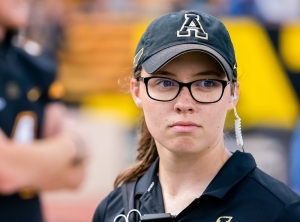 Tags: