Brian Donado, a senior health care management major and Sarah Musser, also a senior health care management major, had the opportunity to intern at Wake Forest Baptist Medical Center this summer. The internships provided them with hands-on experiences and practices they will be able to use in their future professions.
According to Joanna Lyall, Associate Vice President, Program and Campaign Manager with the Office of Philanthropy and Alumni Relations at Wake Forest Baptist Medical Center and Beaver College of Health Sciences Advisory Board Member, "We were able to quickly incorporate Brian and Sarah into our External Relations division at Wake Forest Baptist Health. Brian had the opportunity to align his interest in practice management with our Wake Forest Health Network practices where he shadowed practice managers and physicians. Sarah was able to develop a campaign for our Office of Philanthropy and Alumni Relations. The skills that they brought to the internship were invaluable and they were able to quickly onboard with our teams to make lasting contributions."
Pictured left to right: Liza Anderson, Angela Wishon, Devin Funchess, Sarah Musser. Photo submitted.
Musser credited her program for her success, "My health care management program prepared me for my internship at Wake Forest Baptist with classes in Leadership, Management and Quality. I utilized skills from my coursework to assist in the organization of a campaign called "31 Days and 31 Ways" for Brenner Children's Hospital. I learned how to arrange communication and coordinate dates with different teams and different departments. I am very proud of being a mountaineer and of the opportunity to work with alumni of Appalachian State University like Joanna Lyall, who helped guide me through my summer internship and provide the foundation for my future career path."
Brian Donado and Julie Freischlag. Photo submitted.
Donado was appreciative of the many opportunities that were presented to him during his internship, however, he was most moved by the moment he met Julie Freischlag, MD, the chief executive officer of Wake Forest Baptist Medical Center and dean of Wake Forest School of Medicine. "Dr. Freischlag is one of a select few of women CEOs in the country. Overcoming many obstacles throughout her career hasn't prevented Dr. Freischlag from touching the lives of so many people, either through performing surgeries or in her respective administrative roles. I aspire to embark on a path of equal integrity and stewardship such as what Dr. Freischlag has demonstrated time and time again," said Donado.
Donado and Musser's experiences reveal the importance internships can have on students as they approach their professional careers. Internships can be a perfect opportunity to demonstrate the skills you've learned in your major, expand your competencies, network among industry professionals and make lasting connections. Speak to your faculty mentor today or connect with Appalachian's Career Development Center to get started.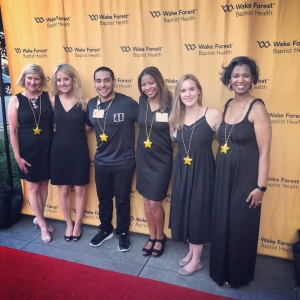 Tags: