By Audrey Gurkin
Boone, N.C. — Brett Strader is a senior Health and Physical Education K-12 major from Annapolis, Maryland. Although he grew up living close to the Naval Academy, he was ultimately attracted to the U.S. Marines Corps.
Strader tried community college after high school, but it wasn't until a friend introduced him to the Marines that he found his passion. "Joining the military made me who I am today. It made me a better person and through the Marines, I found out what I wanted to do with my life. That's how I landed at App State," said Strader.
Upon Strader's return to North Carolina, he knew that he wanted to go back to college and pursue a career centered around physical education and wellness. After visiting the campus at Appalachian State University, he knew he had found the place for him.
"When I think of App, I think of Boone, and how the Boone community is a big part of the App community. For me, that is the Appalachian Experience."
Strader stated he did not know anyone when he moved to Boone but found the "welcoming and loving community made the transition so much easier." He expressed appreciation for the professors in the Health and Physical Education program and believes the professors' enthusiasm and passion extended beyond the major and into the culture of the college.
Strader went on to explain how his professors provide resources to help the students create their own community within the community, like the HPEC (Health and Physical Education Club). "I also get an email at least once a week from our professors telling us about ways we can volunteer around the campus and the community. They go above and beyond to help us connect with our fellow students and the entire Boone community. The App community is a part of the Boone community and the Boone community is a part of the App community. I feel so fortunate to be here and a part of it all," said Strader.
As for the future, Strader plans to marry a fellow Mountaineer whom he met during his time in Boone. After graduation, they plan to move to Texas where he would like to begin teaching in middle or high school. Eventually, he hopes to pursue his dream of coaching at any level. "No matter where I end up teaching, I want to create a culture of fitness and wellness, not just for my students, but my community as a whole. My professors teach us that we need to share our knowledge and passions with the community around us, and that is what I intend to do."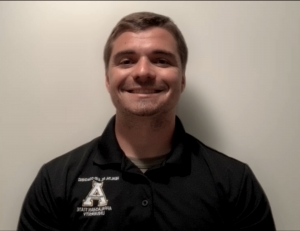 Tags: