By Audrey Gurkin

Boone, NC — Letissia Akue ka, a senior exercise science major, is one of two recipients of the Beaver College of Health Sciences (BCHS) Advisory Council Scholarship. Last year, John Roos, former Chair of the BCHS Advisory Council and Senior Vice President at Blue Cross and Blue Shield of North Carolina, challenged all advisory council members to support this scholarship. The members met that challenge and found their scholar.
Akue ka is originally from Togo, West Africa. In 2012, her parents decided to give up their own careers and move the family to the United States to give their children an opportunity to receive a better education. Akue ka was so excited to come to America that she didn't let the fact that she did not speak English diminish her enthusiasm. "I was 15 when we moved and I was so excited to come to America that I didn't even think about the language barrier," said Akue ka.
She quickly learned English with the help of the Doris Henderson Newcomers School. The school, located in Greensboro, serves recently arrived immigrant and refugee students in grades 3-12 who are novice English speakers. After she transitioned to her high school,
Akue ka felt left out. Although she was comfortable with the English language, she was not experienced in American culture or teenage slang. She made a few friends but mostly kept to herself. That changed when she was invited to attend Appalachian's Multicultural Prospective Student Day.
When Akue ka came to visit Appalachian, she knew this was the place for her, " While I am a minority on campus, it doesn't feel that way, I felt welcomed and everyone was so nice to me. Plus the campus is beautiful. I felt like I needed to be here."
After she graduates in May, Akue ka plans to obtain a paid internship in her field of study before applying to Physical Therapy programs. "My family and I are so grateful for the scholarship and the financial relief it has provided for us. I'm just a bit sad that I will have to leave Boone though," said Akue ka.
We know Akue ka will continue to find success no matter what path she chooses!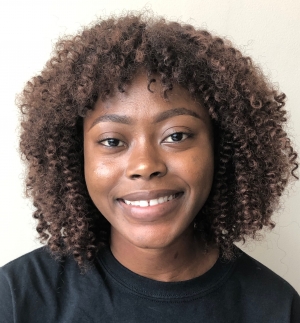 Tags: