By Audrey Gurkin
Boone, N.C. — When Megan Campany chose Appalachian State for her undergraduate degree, she was one of those students who knew what she wanted and how to get there. Campany graduated from Appalachian State University Honors College in May 2019 with a bachelor of science degree in exercise science. She served as a Student Ambassador and was a recipient of the Beaver College of Health Sciences Dean's Scholarship. She was also a member of Campus Crusade for Christ (CRU), a member of the Appalachian softball team and worked in the Vascular Biology and Autonomic Studies Laboratory with Dr. Scott Collier, professor in the Department of Health and Exercise Science, for her research.
Campany, originally from Harrisburg, North Carolina, came to Appalachian in the fall of 2016 knowing she would eventually apply to medical school and begin to pursue a career as a pediatric cardiothoracic surgeon. Her journey to medical school began with early graduation and many options from which to choose.
According to Campany, "The process of applying to medical school is a lengthy and challenging one; it's a whole different level of competition when you're competing against the best of the best across the entire country for a few select spots. Campany participated in several interviews at different programs where she described how her experiences at Appalachian prepared her for medical school. "My interviewers were consistently impressed by the advanced research that I did with the Vascular Biology and Autonomic Studies Laboratory and I was able to approach panels with confidence after receiving outstanding professional development with the Appalachian Student Ambassadors. Even my current employment at an asthma and allergy clinic in Charlotte was thanks to networking at Appalachian. And of course, everyone remembers that time we beat Michigan, so I had a great ice-breaker too! I was prepared academically and professionally and I also had a resume filled with many unique experiences that I had thanks to my time at Appalachian," said Campany.
Campany approached Dr. Collier early on in her freshman year about research opportunities. "I remember Megan inquiring about research as many undergraduates do, but she was persistent and got involved early and often on projects. She was a welcomed ambassador for our Spring and Fall Open Houses and is now a co-author on a manuscript. I know the future is bright for Megan and I look forward to her contributions as a future health care professional," said Collier.
While Campany had the unique opportunity to choose between some of the finest medical schools in the United States, she ultimately made the decision to pursue her medical degree at the Mayo Clinic Alix School of Medicine (MCASOM) in Scottsdale, Arizona. Campany had this to say about her final decision, "With a class of only 50 students, MCASOM emphasizes connection with your classmates and professors. They place a large focus on individual mentorship and development. I also love a program that they offer called Selectives. This program offers weeks throughout the semester where you can rotate at any hospital in any specialty. I'll be doing clinical work within my first weeks on campus! It'll be an adventure moving across the country for sure… but I'm excited about the challenge that this will bring! I can't wait to study alongside and learn from some of the top-ranking doctors in the country. Arizona here I come!"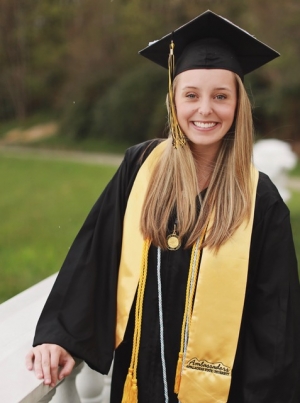 Tags: