By Teri Mitchell

Boone, NC — On Wednesday, April 3 student majors from Health, Physical Education and Coaching (HPEC) provided instruction to staff and Health Occupations Students of America (HOSA) at Bethel Elementary School. This partnership resulted from a request by the Bethel school nurse, Kelly Young, an advocate for staff wellness and education opportunities.
The Appalachian State University students developed three unique training stations; one was targeted to nutrient density and healthy snacks, the second provided "walking" instruction on how to create a fitness plan as well as useful apps for physical activity and nutrition support, the third offered an introduction to yoga. These stations were met with great enthusiasm by the participants and everyone had the opportunity to engage in all activities.
While a unique field experience for these future teachers, this is the type of collaboration that builds and supports the different components of the Whole School, Whole Community, Whole Child Model which, in turn, leads to healthier outcomes for everyone in the community that is served.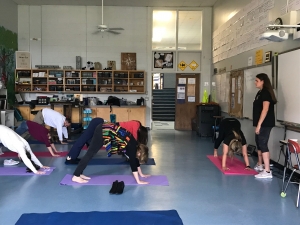 Tags: